A Timeless Sport
Author: Shannon Miller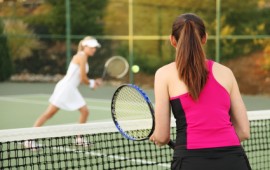 SML is back this week with another fun activity for you to try!
If you've never given tennis a try, you might be wondering why you should!  Tennis is a timeless sport; children and older adults alike can enjoy this great sport.
Are you thinking "I've never played.  I know I'll be terrible."  The great news is that tennis can really be played at any skill level.  Find a partner who matches your skill level and learn together or go toe-to-toe with a seasoned player who can show you his/her tricks!
If you're not convinced yet, check out some health benefits of playing tennis:*
Increasing aerobic capacities
Lowering body fat
Improving muscle tone, strength, and flexibility
Increasing reaction times
Increasing bone density
If all of this talk about tennis has pumped you up, give it a shot (no pun untended!).
Here's a tip: before going to buy a brand new racquet, borrow one.
You would be surprised at how many people have tennis racquets lying around.  If you borrow one first, you can see how much you really like the sport and then go get one for yourself when you're ready!
TIP: Remember, it's not about winning or losing; it's about challenging yourself to try something new!
* "Tennis – health benefits",  Better Health Channel,  18 Jan 2011.