Kale and Fruit Shakes
Author: Alma Schneider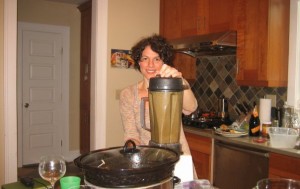 Hi everyone!
I am feeling so inspired to spread the healthy cooking message. I just got back from a great workshop at the Sarah Ward Daycare Center in Newark where I presented on healthy foods, meal planning, modeling cooking for our kids and identifying our own individual obstacles to cooking to provide more healthful meals to ourselves and our families on a consistent basis.
With the help of a sous chef, we were able to provide fresh prepped and cleaned vegetables and fruits to sample some vegetarian burritos and green shakes. Many in the room had never tried an avocado (I think of these folks as "food virgins") so we added them to both the burritos and the shakes. Here is the green shake recipe-try it and you WILL be a convert!
Kale Fruit Shake: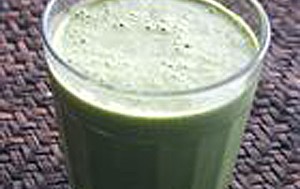 6 cups water
3 cups washed, chopped kale, fibrous stem removed
2 bananas
1 cup blueberries
1 avocado-makes it creamy but is optional
2 TBS honey-optional
Blend in a blender until creamy. Enjoy! Will keep for 2 days in the fridge but re-blend it because it will separate.