Overweight And Obesity: Are You At Risk?
Author: Shannon Miller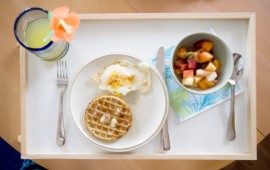 Overweight and obesity are complex health problems that affects more than two-thirds of U.S. adults.
Health conditions associated with obesity include hypertension, coronary heart disease, and type 2 diabetes. However, healthy eating habits, increased physical activity and weight management often improve the health risks associated with obesity.
Are you at risk?
Your weight is the result of many factors. These factors include:
environment
family history
genetics
metabolism
behavior or habits
In addition, some illnesses may lead to obesity or weight gain. These may include Cushing's disease, and polycystic ovary syndrome. Drugs such as steroids and some antidepressants may also cause weight gain.
Obesity can cause:
Heart disease
Cancer (endometrial, breast, and colon)
Type 2 Diabetes
Hypertension
Stroke
Osteoarthritis
Respiratory Problems and Sleep apnea
Depression
Sleep problems
Here are a few TIPs to maintain a healthy lifestyle and keep the weight off:
Keep your eating patterns consistent. Follow a healthy eating program each day. Try eating every few hours (approximately 6 small meals per day). By eating on a regular basis you keep your metabolism moving and are less likely to over indulge at any one meal.
Eat breakfast every day. Eating breakfast is a common trait among people who have lost weight and kept it off. Keep your metabolism in high gear and over eating later in the day by eating a healthy breakfast.
Get daily physical activity. Get a minimum of 30 minutes of exercise each day.

Get support from family, friends, and others.
Body mass index, or BMI, is calculated from a person's height and weight that allows for a general assessment of the individual's body weight. If your BMI (Body Mass Index) is high, you have as increased risk of developing certain diseases including coronary heart disease, hypertension, type 2 diabetes, stroke, sleep apnea/respiratory problems and certain cancers. The recommendations for healthy BMI are set by the U.S. National Institutes of Health.
A BMI between 25- 29 is considered overweight
A BMI of 30 or greater in an adult is considered obese
Find out your BMI today:

http://www.jaxhealth.com/your-health/wellness-tools/health-calculators/adult-bmi.aspx