Team Impact
Author: Shannon Miller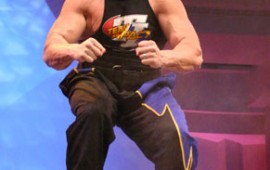 I always love hearing about new events that educate, entertain and inspire our youth. This afternoon I spoke to a gentleman with Team Impact, a group that helps teach kids to be the best they can be every day.
Perhaps no one else on Team Impact has amassed more athletic recognition or accolades than Jeff Neal, The Man of Steel. He was once named the NFL's strongest man and has won numerous national and world power lifting titles as well. Jeff also has earned two degrees and is a prolific reader.
Neal discussed Team Impact, explaining that they have built an encouragement arsenal over the last decade, speaking face-to-face with over 700,000 students each year in their assemblies around the world.
"With an average of 10+ years of public school speaking each, our team members effectively relate to students of all age groups and social backgrounds."  Team Impact members' accomplishments in areas such as NFL football, pro wrestling and Olympic competition help them to build a rapport with students, and bridges to their hearts and minds.
The in-school assemblies use feats of strength to provide an entertaining way to help children strive for Academic Excellence.  The Team members tackle the subjects of peer pressure, bullying, goal setting and healthy lifestyle choices.
Neal and his Team Impact team will be in Jacksonville Sept 29 to Oct 3rd visiting several schools in the area and participating in a FREE evening event with human feats of strength performed live that will motivate all ages with a message of hope to push themselves to be the best they can be each day.
For more information visit http://www.team-impact.com/
TIP:  The FREE event is every night at 7pm Sept 29 – Oct 3rd at Kernan Blvd Baptist Church at 4000 Kernan Blvd S.  Get more details at http://kbbc.org or text "impact" to 72239