"You Have To Crack A Lot Of Eggs To Make A Good Omelet"
Author: Shannon Miller
Miller: Setting Goals Is Key To Success
Patty Miller The Edmond Sun
The Edmond Sun Fri Nov 12, 2010, 09:22 PM CST
EDMOND — Setting goals, writing them down and checking them off when they have been achieved are the three ways former Olympic gymnast Shannon Miller coached Edmond businesswomen Friday on how to find success.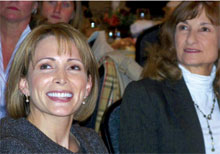 Miller was the keynote speaker at the Edmond Area Chamber of Commerce's 2010 Women's Leadership Conference during a luncheon Friday at the University of Central Oklahoma. Miller spoke to more than 100 conference participants.
As a seven-time Olympic medalist, Miller remains the most decorated American gymnast in history. Her passion for gymnastics is now focused in a different direction as she has become a passionate advocate for health and wellness as it relates to women and children.
"Winning the Olympic gold medal is a symbol of one moment in time of setting goals," Miller said. "The lessons I learned as a gymnast working toward a goal would continue to show up long after the competition was over."
At the age of 19, she said for the first time in her life she had nothing to train for, her career was over and she was retired.
"After an 85-city tour, the bus stops and you head home," Miller said.
With nothing left to focus on but eating, Miller said she gained four clothing sizes before her wake-up call.
While autographing photos of herself on the balance beam she looked up and saw a gentleman looking at the photo, looking at her and then looking back at the photo.
"I was embarrassed and sad because I felt I had let this gentleman down," Miller said.
Through trial and error and after a series of quick-fix diet tries, Miller said she decided to try a healthy lifestyle approach, with everything in moderation.
"I finally realized it wasn't fitting in a pair of jeans, but it was about health," Miller said.
As she set about becoming healthier herself she realized she could help women with the experiences they face emotionally, physically and psychologically, the things they face every day.
She urged the women to acknowledge their fears, whether it be of the unknown or of failure, work through them and learn from them.
"Every time I have failed I feel I learned something new," Miller said. "Over time I became an expert at learning from my mistakes."
She told them that each person needs to take a chance, learn from it and move forward.
"I had a coach tell me once, 'You have to crack a few eggs to make a good omelet,'" Miller said.
In order to be successful, Miller said to set goals, never set limits on what can be achieved and have a passion and carry it with you every single day.
"Passion is an essential ingredient when building a business," Miller said. "It is what separates us from our competitor."
The once poised balance beam athlete is now poised to launch Shannon Miller Lifestyle with a series of workout DVDs and fitness books for women on the go, and cookbooks for quick and healthy meals.
She is quickly becoming the go-to person for women who are seeking good information, motivation and inspiration.
In addition to her broadcasting and spokesperson duties, Miller hosts her own radio show. Miller's Web site, www.shannonmillerlifestyle.com, provides professional and interactive user content in critical areas such as Health & Nutrition, Fitness, Pregnancy and Motherhood.
She recently launched products such as her "To-Go" series of books on yoga, abs and stretching, a Healthy & Balanced Pregnancy Cookbook, pre- and post-natal workout DVDs and journals on fitness and running, to provide women with convenient tools to maintain a healthy lifestyle.