Enjoy a Spooktacular Halloween: Have Fun and Stay Safe
Author: Shannon Miller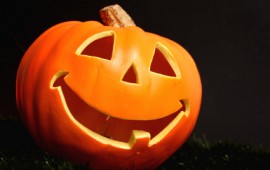 Ghosts, goblins, witches…and astronauts?
That's the fun of Halloween – you can go as anything! My son will be dressing up as an astronaut this year for his very first Halloween. We're not counting last year since he was only 3 days old. Of course, he is only 1 year old, so he didn't get to choose his costume, but I'm sure if he could talk he would say: "One small step for baby, one giant leap for baby-kind!"
Whether you have an infant, a toddler, or a teenager, your family probably has some Halloween events to look forward to this week. As with many holidays, a great way to keep the fun going is to keep everyone safe.
According to Parenting.com's Halloween Safety Guide, here are some good tips that can be followed to ensure safety on this very fun holiday.
Some of Parenting.com's tips* include:
Prevent falling by avoiding costumes that are too long for your youngster.
Face paint might be a better option than a mask. Masks can block your child's peripheral vision, and thus make it hard for them to see their pathway from house to house.
Go to houses of people you know. Do your trick-or-treating in a familiar neighborhood and don't let your kids go in any home without you.
Do dinner first. Before going trick-or-treating, feed your kids dinner so they aren't so tempted to eat their candy along the way (which could keep them up later!)
Scope out the loot.

Go through your children's candy to make sure it all looks new and that it's wrapped.
For toddlers under the age of three, it might be a good idea to remove hard candies that can easily be choked on.
Listen to the SML Radio Show Halloween Safety Special live at 9am Sunday, October 31st on AM690/106.5FM WOKV Jacksonville or the Shannon Miller Radio Show online. If you miss the show you can listen to the Shannon Miller Radio Show archives anytime.
Have a safe, fun and spooktacular Halloween!
*Patty Onderko, "Halloween Safety Guide." Parenting.com, on 24 Oct 2010 .