Become a Rockstar Mom!
Author: Shannon Miller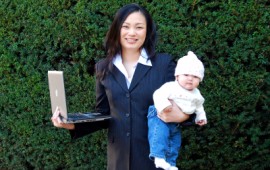 I recently caught up with, Kelli Osborne, Small Businesswomen of the Year and a true leader and authority in the Life Coaching industry.
She is the founder of Kelli Osborne Image & Events, LLC, a Life Coaching Firm specializing in all areas of life coaching. Kelli helps all of us moms to be  a "Rockstar Mom" by teaching us how to balance, family and career and still maintain a heart for making others happy.
I asked Kelli to share with us the steps we can all take to become a Rockstar Mom!
PASSION is the key word, finding what your passion is and how you can use that passion to design a life you love is the first step in becoming a "Rockstar Mom"
Here are 5 steps to finding that passion and begin living it:
1.  Determine your passion: what is it that makes your heart beat fast, gives you goosebumps, something you look forward to doing.
2.  How can I put that passion to work for me, who can I help today by using my passion.
3.  What keeps me from screaming from the rooftops about what I am doing, what keeps me stuck where I am? Why am I afraid?
4. What risk do you want to avoid at all costs? And what would happen if you risked it?
5.  Start asking for what you want.
Courtesy Kelli Osborne. For more information: kelliosborne.com/