Preparing For Post-Pregnancy Work
Author: Shannon Miller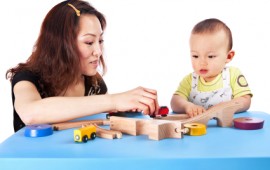 Working moms have a lot to think about, particularly during the initial transition from maternity leave to the first day back on the job.
You know how to do your job and you've had at least six weeks to get used to the motherhood thing (as if you ever get used to it), but the challenge is doing both.  It's important to have the confidence that you can adjust and adapt. The good news is that women do it everyday and you too can make a successful transition.  The helpful hints provided below may help!*
Plan, plan, plan!  Prepare some meals that can be frozen and enjoyed later (like after work when you don't feel like cooking!). 
Get your daycare arrangements taken care of…ask friends and relatives for some suggestions.  It may also be a good idea to stop in the daycare unannounced, so you can make a true assessment of the facility. 
If you are breastfeeding, will you continue to do so – maybe only part-time? Will you pump?  Switch to formula? Either way it takes some time to adjust physically and mentally. You'll also want to make sure others are on the same page whether it's making sure you have a private place to pump at work or teaching hubby to mix formula.
What's in your closet? Your work clothes may not fit like they used to.  Don't be discouraged.  This is normal – and it may turn into a perfect reason for a small shopping excursion or to raid a friend's close.
Step by step. If you are planning on returning to work full-time, try spending some time outside of the house before you have to put in your first 40 (or 80) hour work week.  This will make the transition a little smoother for you and your little one.
Mommy and me. Set some time aside each day that just you and your little one can enjoy together (i.e. story time, bath time, etc).  Make it a part of your routine.  This way, in the midst of all the change, you have one stable activity to fall back on and to find comfort in.
TIP:  The transition may not be as smooth as you would like, but the important thing to remind yourself is that it's possible!  And remember, you are not alone.  Your spouse, friends, and family members will surely be ready to help as soon as you ask!  Rest safely in the notion that you (and your little one) have what it takes to adapt to this change!
*Teresa Shaw,  "Returning to Work After Maternity Leave",  BabyCorner,  9 Dec 2010.