Childhood Obesity -Can You Prevent It Before Your Child Is Even Born?
Author: Shannon Miller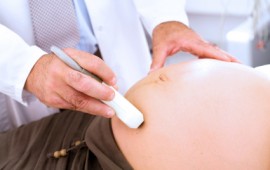 Blood Sugar During Pregnancy Could Affect Kids' Future Weight
About 5 percent of women who are pregnant in the United States and don't have diabetes develop it while they're expecting. This is called gestational diabetes.
Gestational diabetes occurs when the mother's body has problems producing or using the hormone insulin to get energy from glucose, or sugar. The result is high levels of blood sugar.
In a new study, about 9,500 women underwent screening for gestational diabetes. Five to seven years later, their children stepped on the scale.
The lower each woman's blood sugar level was at the initial screening, the less likely her child was to be obese years later. This was true even after the researchers considered other traits related to childhood obesity, such as the mothers' weight gain during pregnancy. Researchers did not speculate about the differences among the women in healthy lifestyle choices at home.
Stop Gestational Diabetes Before It Starts
Many risk factors for gestational diabetes cannot be changed. These include
a family history of diabetes,
being older than age 25,
having had a large baby before.
However, studies suggest that maintaining a healthy weight and eating a high-fiber diet before you get pregnant may ward off high blood sugar. If you have any risk factors for diabetes, talk to your doctor about screening as soon as you know you're pregnant.
Fight Weight Fate When You Have the Condition
Some good news: Having gestational diabetes doesn't mean your child is doomed to be heavy.
Women in the study who received treatment after they were diagnosed were less likely to have obese children than those who weren't treated.
If you're diagnosed with gestational diabetes, your doctor may prescribe insulin to help you get your blood sugar back to normal. You also may be asked to:
Test your blood sugar regularly. Talk with your doctor about what to do when the level is outside your target.
Stay active. Walking and swimming are good exercise choices.
Follow a meal plan designed by your doctor or dietitian. You might be told to limit sweets, eat more fruits and veggies, and watch your carb intake.
Courtesy of Baptist Health – Jacksonville, Florida
TIP:  If you found this article helpful, you might also want to read some related Shannon Miller Lifestyle articles:
Get Your Kids Off The Couch And Into The Game…Of Life
Boost Your Children's Health With Fruits and Veggies