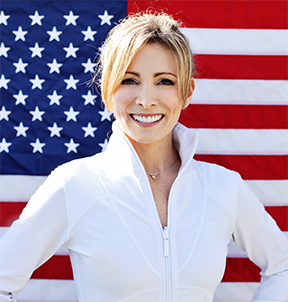 Seven-time Olympic Medalist, Shannon Miller is the only female athlete to be inducted into the US Olympic Hall of Fame – Twice! [Individual (2006) and Team (2008)]
Shannon has won an astounding 59 International and 49 National competition medals. Over half of these have been gold. In 1993/94 Shannon became the first US gymnast to ever win back-to-back World All-Around Titles, and she is the first American female to medal in the individual all-around of a non-boycotted Olympics. Her tally of five medals (two silver, three bronze) at the '92 Olympics was the most medals won by a US athlete in any sport. At the '96 Games, she led the "Magnificent Seven" to the US Women's first ever Team Gold and for the first time for any American gymnast, she captured Gold on the Balance Beam. She is the first American gymnast to win an individual gold medal at a fully-attended summer games and cemented her place as the most accomplished gymnast, male or female, in U.S. Olympic history.
After retiring from Olympic competition, Shannon received her undergraduate degrees in marketing and entrepreneurship from the University of Houston and her law degree from Boston College. She then moved from Olympic athlete to advocate for the health and wellness of women and children.
Shannon launched her company devoted to helping women make their health a priority in July, 2010. She continues to travel the country as a highly sought after motivational speaker and advocate for the health and wellness of women and children. Shannon's seeks to empower women to make their health a priority through education and awareness.
In January of 2011, Shannon was diagnosed with a rare form of ovarian cancer. She had the baseball sized tumor removed successfully and followed up with an aggressive chemotherapy regimen. Shannon has remained open and public about her diagnosis and treatment and continues to empower women to make their health a priority. Shannon is currently cancer-free and continues to be a strong advocate for early detection.
Shannon's book, It's Not About Perfect: Competing for My Country and Fighting for My Life, is her inspirational memoir written to encourage and empower others to break through and overcome their own personal challenges.
Shannon remains involved with the sport of gymnastics and the Olympics as a commentator and analyst.
MEDIA HIGHLIGHTS
Interviews: Today Show, CNN, The Doctors, Katie (Couric), Marie Osmond, E!, The Balancing Act's Mission Makeover (Lifetime TV), Good Morning America, Sanjay Gupta, Fox & Friends, Inside Edition, USA Today, Extra, Health Magazine, Fitness Magazine, Self Magazine, Sports Illustrated, Vogue, Glamour, MSNBC, Woman's Day, International Gymnast, Inside Gymnastics, Parents, New York Times, More Magazine, Forbes Magazine, People Magazine, Lifetime TV, History Channel, 1 vs. 100, Conan, Late Night with David Letterman, Saved By The Bell, Wayne Brady, Regis and Kathy Lee, Today Show, GMA, Inside Edition, 1010XL, Anderson 360, MSNBC and hundreds more.
CURRENT PARTNERSHIPS
Our Way Forward (Tesaro)
FARE (Food Allergy Research & Education)
Kay Yow Cancer Fund
Mancino Mats "Training Tomorrow's Legends" SM Collection
A-1 Awards "Dare to Dream" SM collection
MOTIVATIONAL SPEAKER
Shannon speaks professionally on the Gold Medal Mindset. Discussions include a focus on leadership, resilience, goal-setting, positive mental attitude, commitment to excellence and overcoming obstacles to audiences at corporations, organizations & universities across the country. Recent keynote speeches include those listed here.
For more information please check out Shannon's Motivational Speaking Page.
BROADCASTING CAREER/TELEVISION/RADIO
Ambassador for FARE (Food Allergy Research & Education)
Analyst during the 2016 Olympic Games (CNN, Today Show, NY Post, etc)
Brand Ambassador for Hershey's (2016)
Host of Shannon Miller Lifestyle radio (one hour weekly radio show covering all health related topics (2010-2016)
Analyst for Yahoo! Sports during the 2012 London Olympic Games (2012)
Social Media Campaign for Yoplait Smoothie (2012)
First and only Gymnastics App "Get in the Game" in partnership with Apple
Extreme Weight Loss (appearing as a judge during the "Georgianna" Episode
DVD: Shannon Miller Body After Baby DVD, Shannon Miller Fit Pregnancy DVD (2010)
Host of Frosted Pink with a Twist an event to raise cancer awareness (with Scott Hamilton) – (ABC)
Host of Gymnastics 360° with Shannon Miller, a weekly program for Comcast. (2004-2009)
Gymnastics Commentary on NBC's HDTV coverage of men's and women's artistic gymnastics for the 2004 Olympic Games in Athens, Greece.
Analyst for MSNBC's coverage of the 2000 Sydney Olympic Games.
Analyst for both men's and women's artistic gymnastics for NCAA events as well as National and International Elite
competitions.
Columnist: Inside Gymnastics Magazine.
Presenter at televised award shows including Southern Sports Awards, Golden Goggles and Kids Choice Awards.
A variety of commercial work.