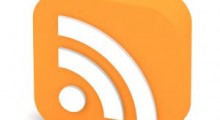 Know what RSS is already? Subscribe here to new posts via FeedBurner or View RSS
New to RSS? Read below:
RSS stands for Really Simple Syndication similar to a news listing available in feeds.
Feeds are a way for websites to distribute content to their viewers. This lets you keep track of a large number of your favorite websites or blogs, without having to remember to check each site manually or clutter your email inbox. This streamlines your online experience by aggregating content in one place to be read when you're ready.
How do I read RSS feeds?
If you want to browse and subscribe to RSS feeds you will need a news aggregator such as Google Reader, News Gator or My Yahoo
Live Bookmarks is a great tool by Mozilla for Firefox browsers that you can subscribe to RSS feeds and view them in a special bookmark section in your browser.