A Day to Honor and Remember
Author: Shannon Miller Lifestyle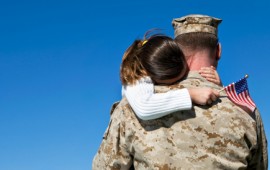 Veterans Day is a very special time to remember and honor the brave men and women and their dedicated families who have so selflessly served our country with honor and dignity.
This is a day to remember all American veterans, both living and those who made the ultimate sacrifice.
 Veterans Day has it origins in WWI, which after some of the worst fighting the world had ever seen, ended on November 11th,1918 at 11:00 a.m with a fabled silence on the ravaged fronts.
Each November 11th, at exactly 11 a.m., a color guard, made up of members from each of the military branches, renders honors to America's fallen, during a heart-moving ceremony at the Tomb of the Unknown Soldier in Arlington National Cemetery. The President or his representative places a wreath at the Tomb and a bugler sounds Taps.
Today, we have the distinct privilege to pay tribute to the real heroes of our nation  for their patriotism, love of country, and willingness to serve and sacrifice and who have done their duty for the common good.
To veterans everywhere, thank you for your sacrifice and for the freedom we enjoy. May God bless you and your families.