October is Breast Cancer Awareness Month
Author: Shannon Miller Lifestyle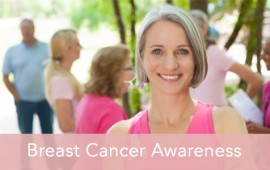 Out of all of the cancer awareness months, October is the most advertised for breast cancer charity, and tends to have the most public response.
Perhaps this is due to the incredibly large number of  breast cancer diagnoses in America. Everyone knows someone that is affected. But thanks to awareness, deaths from breast cancer are steadily declining.
Breast Cancer statistics, according to BreastCancer.org:
1 in 8 women will get highly invasive breast cancer in her life.
There were over 300,000 new cases of breast cancer reported in 2011.
From 1999-2005, breast cancer incidences decreased in women over 50, by 2% per year.
In 2011, there were more than 2.6 million breast cancer survivors living in the United States
However, almost 40,000 were expected to die in 2011 from the disease (statistic still pending)
What is the latest in breast cancer research and development?
Currently, scientists are studying the relationship between the pituitary gland, the release of prolactin (lactation hormone) and breast cancer. It seems that there is another source that controls prolactin other than the pituitary gland, and that this source may sometimes confuse signals about prolactin into the breast tissue.
How Can I Help fight Breast Cancer?
As always, helping charities with breast cancer research and funding is important. However, did you know that not all products boasting the pink ribbon give back to breast cancer causes? In fact, any company is allowed to sell any product with the pink ribbon, just for the sake of awareness. There is now an entire campaign to mandate that the pink ribbon proceeds be used for charity, research, and development, not profit. Breast Cancer Action calls it the "Think Before You Pink" campaign.
To which Breast Cancer Charity should I give?
Products and websites can list all kinds of charities, but do you know how much of that money is actually going to the cause listed? Pink ribbons are especially vulnerable to take more money for profit than they give to the cause of breast cancer support, research, and development.
Charity Navigator is a non-profit website that reviews all sorts of charities, based on their actual monetary donations to causes specific to their charity listing. On a search of "breast cancer," the following charities get top billing (four stars) for giving the most to the actual charity they represent:
Surprised that some of your familiar titles are not listed?
SML TIP:  Look up your favorite charity, see how many stars they have, and see where their money goes by signing up on the Charity Navigator Website.
Whether you are a philanthropist or an occasional heartfelt charity donator, it is helpful to know what your charity does with your funds.

Of course, in addition to monetary donations, you can volunteer your time, and give your personal endorsement to your favorite local charities.  Contact them to find out how you can help.