Stop Hair Loss Now!
Author: Shannon Miller Lifestyle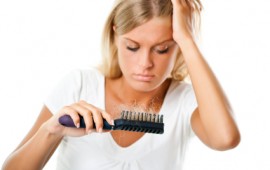 Help! I'm Losing My Hair!
Don't suffer with hair loss ladies, you are not alone.
Female hair loss comprises 40% of the hair loss statistics in America, according to The American Hair Loss Association. Many women are too embarrassed to ask for help or to acknowledge the problem, and many doctors do not consider this to be a serious symptom. They may ignore their patients' complaints.
If you suffer from hair loss, consider possible causes first:
Genetics. Look at your mother and grandmother. If they had thinning hair, you may have Androgenetic Alopecia, or hereditary hair thinning.
Pregnancy. A change in hormones can cause sudden thickening or thinning of hair.
Thyroid Disorders. Your thyroid may have changed since it was last checked. Now is a good time to see if it has changed. Here is a clue to all women out there: get your thyroid tested while you are NOT having symptoms so that you have a comparison number in case something goes wrong. The range in which most doctors consider to be "normal" is very wide, so it is good to know what your "normal" is. If there is a change, ask your doctor for help to get your thyroid back to YOUR normal.
Autoimmune disease. There is a specific autoimmune disease called Alopecia Areata, which causes the body to attack its hair follicles. Another possibility is Graves' disease, which is an overproduction of thyroid. In the situation of Graves, you would see the thyroid number rise. In the case of Alopecia Areata, the only symptom is patchy hair loss.
Anemia. If you have problems with iron in the blood, hair can fall out or be brittle.
Various skin disorders.
Medications for epilepsy or cancer.
Look into your various causes first, and then you can perhaps find a solution that suits your situation.
In many cases, a solution to your hair loss problem may result from a change in your medication or lifestyle.
Also, look into the following natural ways to stimulate hair growth. These are not a guarantee; just a some suggestions:
Eat more protein. Many women do not eat enough protein in general, because they do not feel it is as necessary as their fruits and vegetables. Protein sources include animal sources, beans, soy products, and quinoa. So, make sure to have a little protein each time you eat.
Vitamin C. Some studies show that vitamin C is necessary for strong hair growth. Start with dietary changes, such as peppers and citrus fruits. A dietary supplement may be added.
B vitamins. Many pregnant women get stronger and longer hair from taking their B vitamins, which are necessary to reduce chances of spina bifida and other disorders in the infant. Dark green, leafy vegetables are a big help in the way of adding B vitamins.
Iron. Many women are iron deficient, especially around menstruation. You may find that taking an multivitamin with iron helps, or you can add apricots and raisins to your daily diet.
Cut down on alcoholic beverages. Alcohol inhibits hair growth, so limiting or teetotaling may make a difference in hair growth.
Quit smoking. Smoking damages the skin and scalp. There's another reason to quit!
Color it. Coloring makes the hair appear and feel fuller. This is because color sits on top of the shaft, thickening each strand. Don't go nuts and constantly color, though, because that can break hair down.
Don't over-shampoo. Shampooing daily can dry out the scalp and make hair more likely to fall out. Just shampoo and condition when it is dirty.
Find a style that suits your hair. Ask your stylist how to make the most of the hair you have. This could be some layering, or a styling change.
Choose synthetic hair. See a professional about adding extensions, hair pieces, or a wig to cover your losses. Some women enjoy having multiple wigs from which to choose. Some get extensions skillfully woven into the hair, so that it looks natural and easy. Talk to your stylist or a wig professional about options.
If you have cancer and lose hair during cancer treatments, there is still hope for your hair.
Cancer treatments will most likely make you lose some or all of your hair, but it will come back and you may like it even better than before! It may come in thicker or with a different texture than before you had cancer. While you wait for it to come back in, have fun with wigs! Try a different color or style than your natural hair!
Talk with your doctor, for help in deciding the hair loss treatment that will be best for you. Don't let thinning hair get you down!