Trouble Catching Your Z's? Pro-Sleep Tips and Products!
Author: Shannon Miller Lifestyle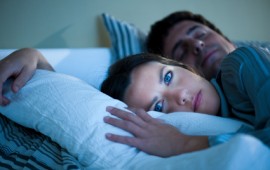 Optimum sleep is vital to your health.
Getting enough sleep lowers stress, increases brain strength, releases feel-good hormones, and keeps unwanted weight down.
But what if you JUST CAN'T seem to get the sleep you need?
Here are the basic steps to take first:
Stop all sources of caffeine 4-6 hours before bed time.
Go on a sleep schedule that is the same every night.
Unplug from technology and music 30-60 minutes before sleep time. You'll want total silence.
Meditate or have quiet time 20 minutes before bed time.
Keep your work out of the bedroom.
If you are doing those things, and it is not working out for you, it could be other unknown stressors like:
a decrease in the hormone melatonin
a pain issue
any kind of hormonal imbalance
a sleep disorder
There are also a few products that may help with your sleep, especially if your sleep problem remains undiagnosed.
BeautySleep– BeautySleep is a natural supplemental product with vitamins and herbs that can enhance sleep, such as lycopene, melatonin, and chamomile. There is also an ingredient called Sensara that includes Ashwagandha and Indian Gooseberry. Though there are no definitive studies accepted by the FDA on the effectiveness of the ingredients, some testimonials include side effects of calmness, reduction in stress-eating, and a feeling of balance during a normally hectic time of the month. The makers of BeautySleep infuse a tiny drink with these supplements and a few more (none of which have dangerous side effects) that could help normalize some of the issues that keep people from sleeping.

Nomad Sound + Sleep by Adaptive Sound– This sound machine has updated technology for superior sound. Choices of sounds include waterfall, fireplace, ocean, and white noise. Parents and children are enjoying this product, as many people cannot sleep in silence. There is also a new Travel Nomad Sound + Sleep, which is great for traveling families or business people who have to frequent hotels.

Goodnighties– How about a high-tech nightie? The Goodnightie is made with a patented ionization process that stimulates blood flow to relieve tired muscles and promote sleep. They are also moisture wicking and anti-microbial. A garment that works like a medicine! Genius! Goodnighties are relatively new, but already in high demand. They've been on the Dr. Oz Show two times already!
SML TIP:  If you have tried the basics and these new products, but are still having issues regularly getting enough sleep, a sleep test may be the next step. Your doctor can help you set that up. For people with sleep apnea, the answer may come in medication or a CPAP machine.
Good Luck, and let us know what works or worked for you!