Shannon Miller Lifestyle Offers Tools for Health & Fitness
Author: Shannon Miller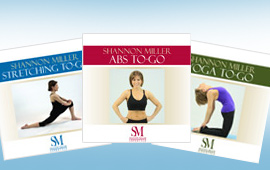 Shannon Miller Lifestyle is a new company started by Oklahoman and Olympic medalist Shannon Miller that offers books, DVDs and a website with health and fitness tools for women.
from a recent article by HEATHER WARLICK- MOORE, published in the Oklahoman

The company, which launched just weeks ago, includes books, DVDs, a radio show featuring Miller and cookbooks for women.
It may not seem far-fetched for a seven-time Olympic medalist and the only woman to be inducted into the U.S. Olympic Hall of Fame twice to conceive such a company. But Miller, 33, said it was actually her greatest struggles with health and fitness that inspired her to create the new line of lifestyle products.
"After retiring from Olympic competition, I really didn't know what to do with myself," Miller said. She recalls her college days at the University of Oklahoma. Not having the physical outlet of training for the Olympics, Miller said she found herself more often than not sitting on a couch, watching TV and munching on chips or some other unhealthy snack.
"I gained a lot of weight," she said. "And … you know, when you're in the public eye, that can be embarrassing."
She tried every fad diet of the time and finally realized that the keys to fitness and health were a combination of eating right and finding ways to stay active.
At the time, her exercise of choice was an elliptical machine because she could multitask.
"I could get on (an elliptical machine), and I could read a book or read stuff for work or study for classes. Or I could just watch TV, but at least I wasn't eating potato chips; I was working out," she said.
It was this journey of falling out of shape and then finding her way back to fitness that sparked the idea of one day helping other women with health and fitness.
When Miller became pregnant last year, she figured it was "now or never."
So began her work on "Shannon Miller Lifestyle," which has evolved into her"
Through a not-so-smooth pregnancy — she had morning sickness "24/7" for eight months and developed gestational diabetes in the last few months of her term — she said learning how to work out as a pregnant woman helped her feel better emotionally and physically.
As most mothers find out, after giving birth, just fitting back into their prepregnancy wardrobe can be a frustrating goal.
"I just remember being devastated sitting in my closet trying to pull on my pants and they wouldn't fit," she said. "That's really a difficult thing for women. It's very personal and emotional."
"But I think having my son, I realized that it's no longer about fitting into my clothes, it's about being healthy so I can be here for him. Keeping up with him, hauling stroller and diaper bag, lifting him out of his crib."
Miller uses her own experiences on her website, books and DVDs to help women through all stages of physical fitness.
"My goal is to empower women with the knowledge and education they need to make informed decisions on health and fitness for themselves and for their family," she said.
In addition to her books and DVDs, Miller hosts "Shannon Miller Lifestyle," a weekly radio show local to her home in Jacksonville, Fla., in which she talks with fitness and health experts about various topics. You can listen to the show at her website, https://www.shannonmiller.com/sml-radio
this excerpt from an article originally published August 2, 2010, by HEATHER WARLICK- MOORE in Oklahoman.
For Video interview and workout, or to read more: http://newsok.com/shannon-miller-lifestyle-offers-health-and-fitness-tools-to-women/article/3481701#ixzz0x9z8QCoz