Mompreneurship 101 from Silikids Co-founders Giuliana Schwab and Stacey Feeley
Author: Shannon Miller Lifestyle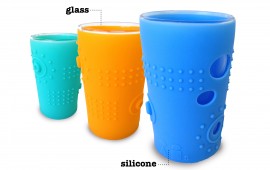 Mompreneur interview questions from Silikids co-founders Giuliana Schwab and Stacey Feeley:
How and when did you form you company?
We (Stacey Feeley and Giuliana Schwab) formed Silikids in 2006 after the births of our daughters.  We quickly realized there were several things we wanted for our children that just didn't exist…so we decided to make them ourselves.
What makes your products or services different than anyone else's?
Our focus is to make modern and innovative silicone accessories for kids, such as skins for glass baby bottles.  We choose silicone as our staple material because of its unique properties.  It is safe, non-toxic, easy to use and clean and does not harbor bacteria.  We are constantly learning from our consumers and believe that it is important to listen to the comments and suggestions that parents have.  This ultimately allows us to make the best products possible.
What was the biggest challenge or setback you had when forming it whether it be time-wise, financially, or emotionally?
Knowing when to turn off the work switch is my (Stacey Feeley) biggest challenge.  I'm constantly at my computer or on the phone and being able to set the boundaries of family time and work time has always been hard, BUT a must.
What's the one piece of advice you wished you had when you got the idea to start your own business?
Ask for help!  We attempted to do everything ourselves and if we would have just asked for a bit of help we could have saved a lot of time and money!  Turns out people actually want to help.
What has your best memory or happiest moment since you started your business venture?
Best moment was the first time we saw a complete stranger using one of our products.  Best memory –  When we first launched Silikids we stored and shipped everything from my home (Stacey Feeley).  There were boxes floor to ceiling all over the house!  I have this great memory of Giuliana and I packing boxes and shipping things out with both our kids strapped to us in our baby carriers while trying to move through a packed house!
Fun Question: If you could go back in time to meet any other famous mom (Mompreneur or not!) in history who would it be and why?
Rosa Parks – the first lady of civil rights!
 About Silikids
Silikids began in 2006 as a labor of love for two friends and mothers, Giuliana Schwab and Stacey Feeley. With growing concerns about toxic materials in children's products, Silikids was born; a children's accessory company dedicated to making safe, clean and hygienic products out of SILICONE. As mothers, they noticed that many products for babies were already made of silicone; bottle nipples, pacifiers, etc. Research confirmed that silicone was indeed a magnificent material for children due to its non-porous nature, where no bacteria could hide; its high resistance to temperatures making it easy to boil and sterilize, and its soft, pliable quality lends itself to multiple uses.   Through the years as the Silikids kids grew up and new members were added to the family, the Silikids line gradually grew too.  Silikids was the first company to introduce silicone sleeves for glass baby bottles, known as Siliskins.  This concept quickly took off and Silikids eventually launched the Siliskin Glass Line; drinking glasses encased in silicone sleeves (a process those at Silikids call "skinning glass").  The company makes a variety of products ranging from kneepads for crawling babies, silicone sleeves for glass baby bottles, jars and containers as well as glass cups for kids and adults protected by their patent pending Siliskin. Through trial and error, blood, sweat and tears the Silikids Founders continue to innovate and launch new products.
Facebook address: http://www.facebook.com/silikids
Twitter address: @silikids