Push Pack's Mompreneur, Laura Magu
Author: Shannon Miller Lifestyle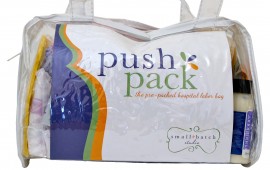 Meet Push Pack creator, Laura Magu:
"Before creating the Push Pack I worked in the hotel/restaurant industry. That was where I met my husband, who is French and a chef (and no, he doesn't do all of the cooking, only for parties! ;) ). We have three girls ages 5 1/2, 4 & 2 1/2 who keep us VERY busy & laughing a lot. Not one calm quiet one in the bunch."-Laura
Shannon Miller Lifestyle: Why and when did you form your company?
Laura Magu: When I was pregnant with my first daughter, I was working a lot and living in San Francisco. The "simple" task of packing for the unknown experience of birth was overwhelming for me. A friend had her baby a few weeks before I was due & took WAY too much stuff, but didn't have things she really wanted. That freaked me out more. I asked at the stores for new / expectant moms if a prepacked hospital bag existed. I was told, they didn't & people ask for them a lot. I started giving prepacked hospital bags as baby shower gift & everyone LOVED them. In 2011 my husband encouraged me to stop talking about selling the Push Pack & go for it.
SML: What's the first thing you did when you realized you were serious about launching? Research, manufacturers, etc?
LM: I interviewed a lot of moms about what they wanted, needed, or wished they would have had in their hospital bags. I talked to all ages and socioeconomic levels. I also took a small business class at my local SCORE. I learned a lot there about what I needed to do to start my own business.
SML: What makes your product different?
LM: The Push Pack is really focused on the mom, from a mom's perspective. It doesn't have a lot of "extra" things like massage oils or tennis balls, just items women really wanted and needed. It also has high quality natural and organic bath and body products while still being reasonably priced.
SML:  What was your biggest challenge in launching your product?
LM: It's hard to say one biggest challenge as I had so many! I guess it can be summed up with having patience for things to happen. I had so much to learn, a limited budget, and was introducing a product that is pretty unheard of. There are no major companies making pre-packed hospital bags! It's been two years and there are some big things on the horizon for the Push Pack – including a feature in the May issue of Pregnancy &Newborn! But, again, it's taken two years and A LOT of hard work for me
to get to this point. Patience is important.
SML: What's something you can recommend other potential mompreneurs do before launching their brand?
LM: Really think about what you want your life to look like for you & your family. Ask yourself and you significant other what your ultimate goal is. When I first started I was really struggling with life / work balance. I felt like I was failing at both. I went to a great conference, the MomBizRetreat where we really worked on life / work balance and setting goals for our businesses. One mom had the goal having a business that would allow her to make dinner for her family 5 nights a week, on the table at 6:00. Other moms had the goal of a certain income or only work while kids were in school. You have to think about what work for you and your family. Make your business goals line up with that.
SML:  What has been your best moment since starting your own business?
LM: Picking one is hard. I've had many great moments, for as many different reasons. The best: in the very beginning being told by a mentor he thought the Push Pack would be a huge success. He was a former president of a maternity wear company and a father of 2, so his opinion really mattered to me. Having that validation really lit a fire in me in the very early stages of starting out.
SML:  Fun Question! If you could trade places with any person in the world for one day, who would it be and why?
LM: I would like to be Annie Leibovitz doing a photo shoot. I love being creative. To be someone who is a master of their craft like she is would be a dream for me. I have so much respect for anyone who is an expert in their field, who is filled with so much knowledge and experience. I would be in heaven.
SML: Is there anything else you'd like to share about your company?
LM: From the beginning, I knew I wanted to include giving back as part of my company. I am very proud that even though we are not yet profitable, we make it a priority to donate Push Packs and or money from sales to various charitable causes.
ABOUT: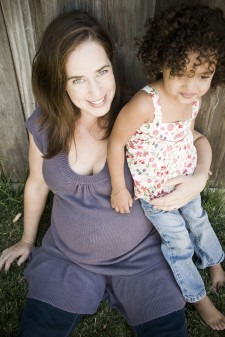 Laura Magu, founder of small batch studio, invented the push pack to help moms feel more prepared and less stressed when that special time comes to have a baby. Laura felt overwhelmed and confused on what to pack in her hospital bag during her first pregnancy in august of 2007. There were long lists out there, but all of them had different things on them. Some people brought birthing balls, boom boxes, aroma therapy massage oils, as well as the clothes for themselves and their baby. Not only asking herself what to pack, she asked when to pack? And should she live out of a suitcase for a week or month until her due date? The push pack is quickly becoming a mom favorite and maternity must-have.
Connect with Laura and Push Packs: