Chemo Brain! Seriously?
Author: Shannon Miller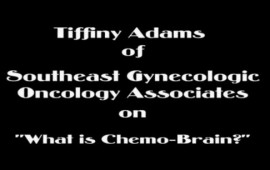 I have to tell you I haven't exactly gotten my brain back from pregnancy and I'm not sure I have all that much more to lose. While I'm excited to have an excuse when forgetting a name at a dinner party or going blank while standing in the cold food section trying to remember for what item I desperately had to rush out to the grocery store in the middle of a rain storm, I'm not sure I like the idea of this foggy brain issue.
While there may not be a medical term for this issue, or even a specific reason why it occurs, it remains a very real and frustrating problem for chemo patients. The good news is there are some ways that you can keep your brain active, a little mental gymnastics if you will, and ward off some of these symptoms.
1) Feed your brain. Keep up with your protein shooting for 60 Grams per day.
2) Get Physical: Whether you're in chemo or not, physical activity is good for your brain. So if you are going through chemo, help clear some of that fog out with some fresh and air some of these great activities: walking, biking, swimming, yoga, Pilates and light weights.
3) Work It Out: Yes you need to work your brain just as you do your body. Break out the cross word, Sudoku or practice mental tasks. Forget the mindless TV and focus on current events.
4) Keep Up With The Conversation: Get out to lunch with your girlfriends or join a book club. Keep your mind stimulated by interesting conversation.
5) Keep A Journal: Keeping a journal is an important part of your healthy recovery. Logging what you eat and the fluids you take in are important. Making sure you are keeping up with your medications and their timing is critical. Logging your daily activity to get an idea when your rest days should be and when you need to get up and active will help you recover faster in the end. It's also a good idea to log your thoughts and feelings. These may change drastically from day to day but it will help you understand that cycles and know that even on a bad day a good one is just around the corner.
I'll apologize ahead of time for my chemo brain. Typos seem to be affecting me the most. I'm going to break out the Sudoku (for beginners, so I can feel good about myself) and then it's back on track with a little exercise! It's a good day.