#10MinuteFitness: Undercover Cardio Workout
Author: Shannon Miller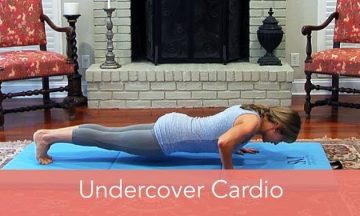 Join me for this 10 Minute undercover cardio workout, as a part of our #10MinuteFitness series!
Why is this called "undercover cardio"? Well, it's not quite what most people think of when they think "cardio". Most tend to think sweating it out on the treadmill or doing some other high intensity routine, but cardio doesn't have to be that! This is a little more fluid and gentle on the joints, but I promise you will get your heart rate up and burn calories!! And clocking in at ten minutes, which EVERYONE can fit in their day, it won't take away from all the other fun things in your schedule. (Just be sure to get in at least another 20 minutes of movement to get your 30 minutes of fitness in!)
Like my outfit? Check out my training gear by Alpha Factor here!
Do you have any requests for workouts? Be sure to connect with me on your favorite social media sites- Facebook (Shannon Miller Official), Twitter (@ShannonMiller96), Instagram (@ShannonMiller96), and Pinterest(@ShannonMiller96). Also, for more workouts, check out my other fitness videos on Youtube.
I can't wait to hear from you!