3 Hot Fitness Trends for 2014
Author: Shannon Miller Lifestyle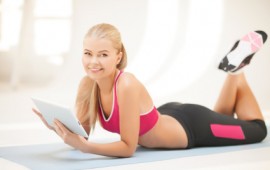 Fitness and fitness-related products are constantly evolving.
Just like fashion, new trends come every year. So if you are curious about some of the hottest new trends this year, look no further. Chances are there is at least one that you haven't even heard of yet!
1. Fitness Trackers
Whether you are trying to lose weight, get in shape, or just looking for a way to track your daily activity, fitness tracker bracelets are a great tool to help you reach your goals. Shannon Miller Lifestyle partner, Polar, introduced the Polar Loop at the end of 2013 and it is sure to make a huge splash in 2014.
Polar Loop is a stylish activity tracker in the form of a smart bracelet, which tracks daily exercise and activity levels, monitors sleep patterns, gives instant motivational feedback and provides alerts to help users achieve personalized daily activity goals.
Key Features of Polar Loop:
Designed to be worn 24 hours a day
Waterproof
Captures all movement and exercise
Distinguishes between levels of activity
Alerts the user by phone if they have been sitting for too long
Is compatible with the Polar H6 and H7 heart rate sensors
Real-time display of steps, calories burned and progress toward goal
Uploads via both Bluetooth Smart (iPhone) as well as USB (PC/Mac)
At the touch of a button, the Polar Loop display shows information about the user's activity goal and what they need to do to achieve it, as well as calories burned, steps taken and the time of day. The Polar Flow app and web service provides additional analysis and guidance, including illustrative graphics that showcase cumulative daily activity and periods of inactivity.
Polar Loop is also the first activity tracker to offer users the option of incorporating heart rate monitoring during workouts, which ensures that credit is given for all exercise, including activities such as cycling that an activity tracker alone will not capture. Adding heart rate monitoring also gives the user access to more Smart Coaching features, unique training guidance based on physiological expertise from Polar.
Price & Availability:
$109.95 MSRP
Available in black, with a more colors expected in 2014
Available at leading sports retailers and online at www.polar.com
The app can be downloaded for free from Apple's App Store, and will be coming soon to the Android Market
2. Timbuk Fitness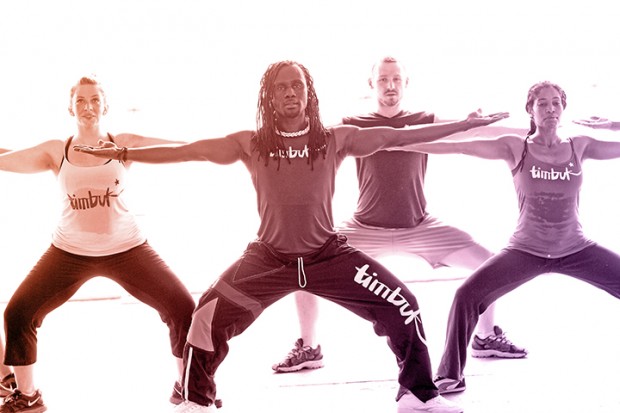 If you liked Zumba, you are going to LOVE Timbuk! Timbuk Fitness is the next big dance workout sweeping the nation! This fun, sexy full-body workout is set to music recorded by live African drummers.  Timbuk Fitness is the nation's hottest African Dance workout coming to health clubs and homes nationwide.
Rachel Armstrong, President and co-founder of Timbuk Fitness, brought Zumba to Baylor University where she began her entrepreneurial career in fitness. After graduating in 2010 she went on to develop Curves University, a personal training certification program for Curves International, as well as running other health and wellness programs around the country. After a move back to her home state of Florida, she met Diadié while he was teaching fitness classes at Florida State University.
TIMBUK CEO and founder, Diadié Bathily (pronounced Jah-JAY BAH-chee-LEE) is the most accomplished West African Dancer on the face of the earth. His program is founded upon classic West African dance with a punch of Diadié's signature choreography. TIMBUK is crafted out of passion, pride and perfection to give you a fitness program that you will love.
Timbuk aims to bring historically accurate, culturally relevant dance styles from the African heartland into fitness centers, dance studios, and homes to increase engagement with fitness, using music and dance to create healthier individuals and communities.

Timbuk PROMO from Timbuk on Vimeo.
The company is certifying Instructors nationwide in Chicago, DC, NYC, St.Louis, Tallahassee, Dallas, Atlanta, and Memphis.  For more information visit timbukfitness.com.
3. Calorie Converter Apps
AthleteInMe.com has brought a new twist to the calorie counter apps that many of us are familiar with. Instead of just telling us how many calories are in a food or drink, AthleteInMe.com's calorie converter app tells you how much exercise you have to do to burn off that food. Several recent studies, at Johns Hopkins University, Texas Christian University, and the University of North Carolina, have shown that when a person sees how much exercise they have to do to burn a food off, they are more likely to choose healthier, lower calorie food choices.
The AthleteInMe.com Exercise Calorie Converter is available for just $2.99 for iPad, iPhone, iPod and Android devices.
AthleteInMe.com is a comprehensive source of information on exercise and fitness, fitness gear, and sports nutrition. It is also a great resource for beginner athletes, weekend warrior types, lifetime athletes, coaches, trainers, and even health professionals.
Are there any trends that you think should be included on this list? Share them with us as a comment or on Facebook!