Easy Stretches When You Have a Quick Break
Author: Shannon Miller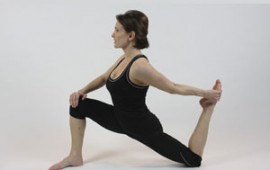 During a busy and stressful day, do you ever just feel like doing something that can take your mind off of things?
Taking a nap or going for a run are often not plausible options in the middle of the day, but there are other alternatives…like stretching!  Stretching is great for your muscles, as well as your mind – it gives you time to slow down your rapidly moving thoughts!  Challenge yourself this week to take a stretching break in between that end of the day board meeting and early evening soccer practice!
Check out how much better you feel after some of these simple stretches:

Wrist Rolls
(for all of you texters!)
Stand or sit with back straight.
Keep shoulders rolled down and back.
Roll fists in a circle, gently.
Move clockwise, then reverse.

Triceps Stretch
Begin with both arms over head.
Bend your left arm at the elbow, holding the elbow with your right hand.
Gently pull your left elbow behind your head until you feel a stretch.
Hold 15-30 seconds.  Repeat on opposite side.
Side Lunge
Begin in a standing position with feet apart at approximately a 45 degree angle.
Shift weight toward your left leg.
Bend your left leg until you feel the stretch.
Hold 15-30 seconds.  Repeat on opposite side.