Fit Exercise Into Your Busy Day
Author: Shannon Miller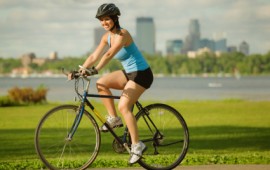 This Sunday we spoke to Jackie Culver, a certified fitness trainer and owner of JOC Fitness. I met Jackie while working to put together the Shannon Miller Kids Marathon to benefit my foundation which fights childhood obesity. Not only does she take a big interest in keeping our youth healthy, she also partnered with me to produce my Fit Pregnancy and Body After Baby DVD's. Jackie helps keep us fit with some down to earth advice.
Tips for fitting exercise into your day:
Take Little Bites. You can accumulate little "exercise portions" throughout your day. If there is no time to get in 30 minutes on the stationary bike, then just try to get in 10.  Walk to a local restaurant for lunch, then go for a quick bike ride around the neighborhood after dinner. You will get in 30 or more minutes of exercise without even noticing!
Set Your Alarm. Get up early and take some much needed time to yourself. Early morning workouts are a great way to energize you for the rest of the day and you do not have to worry that life's little emergencies will derail your good intentions.
Look for Opportunities in Unexpected Places. Are you spending an hour waiting for Junior at soccer practice? Take that time to walk the perimeter of the field. You can get in a little exercise and not miss any of the on field action!
Find an Active Hobby. Take up tennis, golf, dodgeball, anything that you enjoy. Find a group of fun people with the same interest and you will be looking forward to it every week!
Girl's Night Out: Plan an active girl's night out.  Go dancing, take a self defense class, anything that will keep you moving and being social at the same time.
Take the Stairs: I know you've heard this a million times, but take the stairs! Park your car a little farther from the front door of your office. Strap on a pedometer and set a goal for how many steps you will take that day. (Hint: 10,000 is a good goal.)
Most of all, remember how important it is to take care of yourself.  Look at every moment as an opportunity to be fit, healthy, and strong!
Courtesy of Jackie Culver, President of JOC Fitness www.jocfitness.com
Check out Jackie Culver in Shannon Miller Fit Pregnancy and Shannon Miller Body After Baby.
TIP:  If you found this article helpful, you might also want to read some related Shannon Miller Lifestyle articles:
Time Management for the Busy Woman
Set Priorities and Achieve Your Goal!
Keeping Up Without Burning Out