Happy Feet
Author: Shannon Miller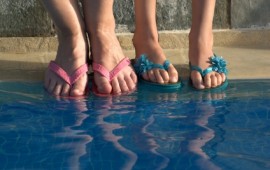 Our feet are very important assets to our bodies and they should be treated as such!
Think about how hard they work everyday to get us from point A to point B.  Granted, sometimes it might be easy to forget about our feet because they are often covered by socks and shoes.  It's important for us to pay attention, though, and look out for things like the classic case of "Athlete's Foot."  This can be particularly important for our children who are often outside playing and participating in sports.  Check out what to look for and how to prevent this pesky skin irritation…
Symptoms:  The foot being…
Flaky, dry, cracked
Itchy
Red, moist, or blistered
Causes:
Shoes can make conditions just right for fungal growth, as they can create a warm, dark, and humid environment.
Can be contracted in communal settings like dressing rooms, locker room showers, hotel rooms, swimming pool locker rooms.
Prevention:
Keep shoes and socks dry.
Wash your feet daily with soap & water and dry them carefully.
Moisturize skin but avoid application between the toes.
Wear flip-flops in public showers
TIP:  Keep your family's feet happy by doing what it takes to prevent irritated skin!
And if you're planning to move those feet at the Shannon Miller Lifestyle Women's 5K Run/Walk and Children's 1 Mile Fun Run make sure you have your feet ready for the big day! Event takes place Saturday, April 30th at 8am at the Jacksonville Landing. Register Now or get more information at https://www.shannonmiller.com/sml-womens-5k-childrens-fun-run I'll see you at the Finish Line!!
Join the team with Shannon Miller's FREE Walk-Fit Program: a tracking and incentive program designed to help keep you motivated! Get your free pedometer at our community events or order your free SML pedometer online. Get stepping and get rewards!
Source: American Podiatric Medical Association website