In the Mood for Something Crunchy?
Author: Shannon Miller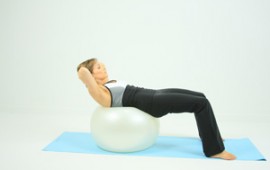 Everyone knows how to do the plain old crunch.  So, if your abdominal muscles are tired of this, give them something new – switch it up a little! 
Check out variations of the abdominal crunch that will be sure to leave your abs feeling good!
Bicycle
Lie on back with legs straight.
Gently place hands behind ears.
Engage your upper abs and obliques pulling right shoulder to left knee.  Hold.
Return foot and shoulder to floor moving immediately to work the opposite side.
12-24 reps on each side.
Roll Up
Lie on your back with legs straight and arms over your head.
Pull your navel to your spine.
Keeping your heels on the floor, slowly roll up one vertebra at a time to a sitting position.
Slowly roll back down, one vertebra at a time.
See video of this move:  Shannon demonstrating the Roll Up
And in case you have an exercise ball lying around….
Ball Crunch
Begin by lying back on the ball – keeping feet flat on the floor.
Arms may be behind your head or straight above your head.
Squeeze your upper abs lifting your shoulder blades up for the crunch.
Hold for a count of 2 at the top and slowly lower back down.
12-25 reps.
Try some of these ab moves today.  Remember, bathing suit season is the best time of the year to get your crunch on!