Infection Prevention Week
Author: Shannon Miller Lifestyle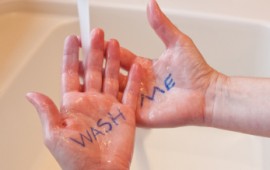 Infectious diseases, caused by pathogenic microorganisms, such as bacteria, viruses, parasites or fungi, can be caught anywhere.
These harmful microorganisms are omnipresent, in some places more than others.
Wash your hands. Wash hands after contact with people or any public area. Wash hands after going to the bathroom, and before eating. Also wash after blowing your nose, sneezing, or coughing. Use a dot of soap, and then scrub while singing "Happy Birthday" in your head (or out loud with kids) twice. That is about twenty seconds.
Cover your cough. Cough into the elbow of your shirt sleeve, rather than into your hands.
Ask your healthcare provider to wash her hands before touching you. If you do not see her scrub her hands or use the antibacterial dispenser when entering the room, you have the right and responsibility to ask her to.
Be aware that infectious microorganisms can be present in any public places.  For example, you should clean gym equipment that you use with a disinfectant wipe, before AND after every use. Not too difficult to understand, but trust us, some people don't do it!
These are some of the best-known practices. Of course, there is no sure way to stay clear of all harmful bacteria and other microorganisms. If you thought your gym was a breeding ground, hospitals are one of the biggest breeding grounds for bacteria! In fact, 5% of hospital patients get an infection as a result of being cared for in a hospital.  Having the clean-hands policy is perhaps the best way to protect hospital patients. Because of this and other concerns, the state of Illinois now has a health care report card for their facilities.
Think of other places that can harbor microorganisms, as well, especially warm, moist environments. For example, there have been recent incidences of infections contracted from the pedicure foot spa.  The US Environmental Protection Agency suggests, for foot spa safety, that:
You do not go to a foot spa if there is a sore or broken skin on your foot or leg.
You do not shave or remove hair on your lower legs and feet 24 hours before foot spa treatment.
You have the right to know how your foot spa is treated. If you do not see the spa be disinfected before your appointment, ask how and when it was cleaned. They should be using an EPA-registered , hospital grade disinfectant.
SML TIP:  Be aware of any warm, moist public place, such as spas and hot tubs. When in doubt, stay out, especially if there is any chance of infection entering your system through a wound or cut.
Do you have some other tips that you use for helping to keep your family safe from infectious diseases?  Please add your Comment to share with our readers.