Long Day? Stretch it Out!
Author: Shannon Miller Lifestyle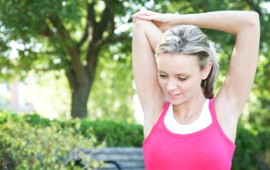 After a long day of holding the baby, doing yard work, or sitting at a desk, some stretching can be the best thing for your body.
Get some relaxing relief with these great stretches! You can find more in our easy-to-travel book Shannon Miller Stretching To-Go.
Wide Arm Chest Stretch
Stand with your back straight, pulling up with your posture.
Brings arms out to side, horizontal to the floor.
Palms are flat, facing forward.
Stretch arms backward, feeling the stretch through your chest.
Hold 15-30 seconds.
Neck Rolls
Stand or sit up nice and tall.
Slowly drop your chin toward your chest.
Roll your head slowly clockwise.
Focus on dropping your shoulders and stretching your ear toward each shoulder.
Repeat moving counterclockwise.
3 slow repetitions in each direction.
Upper Back Stretch
Interlock your fingers in front of you, palms facing toward you or away.
Hands should be shoulder height as you push forward and round your upper back.
Feel the stretch primarily in your upper middle back.
Hold 15-30 seconds.
SML TIP: Use these stretches this week to keep your body happy and your muscles relaxed! Want to see how to do some more helpful stretches?  Shannon Miller Stretching To-Go offers 60 of Shannon's favorite stretches.