Obstacle Races
Author: Shannon Miller Lifestyle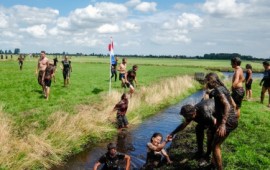 You see them everywhere and have probably gotten invited to more than one.
So, what is a Color Run?
A Mud Run or Tough Mudder?
A Spartan Race?
Should I train for them? Are they for me?
If you know that you are a warrior type, you don't mind a tough terrain, and you like getting dirty, then this might be your calling!  If you have a group of friends that want to have a great day and like doing something a little out of the ordinary, this may be great for your group. If your group likes something tough and competitive or something laid back with no competition, there are races out there for you.
If you are not part of a group and want to attack these on your own, read up on your race. Know what to expect, and in some cases, know what you are signing off on in the liability clauses.
Color Run
The typical color run, powder run, or rainbow race is about having an easy race, knowing that you will come out the other side with pretty pictures. The idea of a color run is to run for fun, and to get colorful along the way. The race workers will spray periodically with a colorful powder that decorates your decolletage. Groups will come with a plan: costumes, makeup, and colorful shoes are typical among groups. Others will show in all white, as to get the most of the coloring effect. Color runs are usually not competitive, but a way to have an easy run, with fun. Find a color run near you.
Mud Run
Mud Runs are all the rage, and come from many companies and subsidiaries. You will find that mud runs, tough mudders, and other similar  races are all a little different and all have a different philosophy. Therefore, again, know your run. Know yourself. Know your group. Some of these races get really intense. So, if you get serious about having a challenge, some of these races may be for you. Read on your race. There may be obstacles, such as rock walls, army crawls, and yes, even electrically charged wires. Some will have you sign your life away before entering, especially the ones that include electricity. Keep in mind that the mud will make you wet, so a live wire will conduct energy.
Spartan Race
Spartan Races are endorsed by Reebok. These specialty races are researched and studied to be the hardest of all 5K Obstacle races. This is the gold standard of 5K races. They do not use gimmicks, but real, very difficult obstacles that challenge not only cardiovascular ability, but strength and agility through the obstacles.
This race is for serious racers. It is for those who want an extra challenge and have trained for it. To train for something like a Spartan Race, train hard for a 5K, and add a lot of strength training. Use a coach or personal trainer to get the most from the race experience. This is no joke.
When looking for something different to do, and a motivation for your fitness, consider these races! Everyone must define their own goals and their own idea of a good time. Bringing a few friends adds to the motivation and the fun!