Quickfire Workout #3: Toned Arms In Five Minutes
Author: Shannon Miller Lifestyle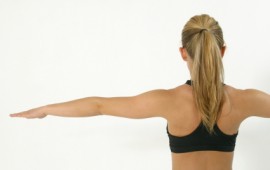 This Friday, take a few minutes for you, and tone up those arms.
It's amazing the difference in strength and posture that well-toned arms will make, as well as how much better you look in tank tops for summer! Many women think they don't need to work out their upper body, but trust us… they do.
Try this week's Quickfire Challenge Workout #3 with Shannon to help tone arms:

1. Push Ups: Never underestimate the power of a good push up. Form is very important. Keep a straight line from head to knees or toes, depending on your lever point.
2. Tricep dips. No one wants flabby arms. Tone the triceps with simple dips off of a chair, bench, or even on the floor. Just remember not to shrug or slouch.
3. Downward Dog push-ups. Your yoga poses go to a new level when you add some movement. Get into a strong downward facing dog, and then do your push up. It's like a body weight shoulder press!
4. Triangle push-up. Did you know that the #1 way to tone the triceps is with a triangle push up? It's scientifically proven! Make a triangle with your fingers and perform your push up from there.
Whew! That's hard work. Luckily, with these exercises, you can perform just one set to get the work done.
SML TIP:  Wrist problems? Hold a yoga block, a push up handle, or even hand weights on the floor to get the wrists more in line with the arms.
___________________________________________________________________________
This Quickfire Challenge Workout was designed by Carrie Harper, owner of CarrieFit  and ACE CertifiedPersonal Trainer and Lifestyle/Weight Management Coach. She is is passionate about wellness education and believes education is power! She tries to give people the best information, and therefore the strongest programs, possible in the fields of health: fitness, wellness, nutrition, energy, and vitality. Check our her other fitness routines!