Take an Active Adventure Vacation
Author: Shannon Miller Lifestyle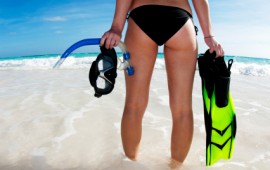 Are you planning a vacation?
The sun and sea beckon this time of year, making it difficult to contain ourselves.
What's better than sitting by the pool? Finding an active adventure to share with your family!
This year, why not make it extra fun and exciting by adding an excursion to your trip? No, you don't have to spend the whole time backpacking or hiking, but what if you had a great adventure to add to the memory book? What if you could have a great vacation without giving up your fitness completely?
While planning a vacation, check out our ideas for some active vacations that you and your family could enjoy together!
1. Hike Half Dome in Yosemite
This trip is for older kids who are advanced athletically. Some people claim that taking this hike is life-changing, though challenging. The array of surfaces discovered on unlike others, as you must climb a hillside to Nevada Fall, and then continue across a wide valley, finally ending at the Half Dome Cables. Beautiful, magnificent, and awe-inspiring, you could really do some soul searching here!
When you're not hiking the half dome, take a leisurely drive or take the bus to Glacier Point, one of the most beautiful spots in the country.
Stay at the Westin Monache Resort, overlooking the beautiful mountains. Take a soak in the hot tub after a long day of hiking.
2. Choose your Adventure in Kauai
Kauai is slightly less tourist-y and slightly more rugged than the other Hawaiian islands, but the beauty in itself is incredible. Called the Grand Canyon of the Pacific, taking an easy walk, all the way to taking a tough hike (your choice) at Waimea Canyon is a trip you will never forget.
When you are ready to take a different kind of adventure, take a helicopter over the Na Pali Coast. This coast line has beautiful mountains and rocks along the gorgeous shore line.
Stay at the St. Regis Princeville Resort. The kids will love that the lobby is on top of the hotel. The rooms overlook the ocean and the infinity pool! You will also enjoy a top notch spa at this resort, and 2 golf courses.
3. Ski in the Spring in France
Looking to go international? You can still ski in France in April. Val Thorens Ski Resort in the French Alps has entire itineraries for families and kids. You can take kid ski slopes, or go exploring for mountain wildlife. The resort includes entertainment and activities for all ages.
4. Learn to Surf in Costa Rica
Endless Summer Surf Camp in Costa Rica gives family and kid lessons in surfing during the day, and includes accommodations at Ritmo Tropical at night. Surf instructors choose the beach and waves depending on ability and experience. They say that this portion of the Pacific Coast is perfect to teach beginners. On times not in the surf, the resort offers bungalows by the pool and a great Costa Rican dining experience.
5. Take an Adventure Cruise
Several cruise lines offer cruises that are much more than simple sight-seeing. REI , for example, now leads adventure cruises, to places such as the Antarctic and Alaska.
On their cruises, side adventures include kayaking and rafting. During the time traveling on the ship, there are family yoga classes and other activities.
What adventure vacation would you choose?