What is CrossFit? Is It For Me?
Author: Shannon Miller Lifestyle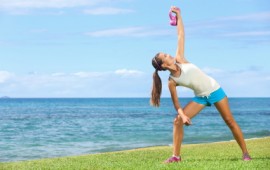 CrossFit fitness centers are popping up everywhere!
They are on every corner and seem to be attracting all kinds of people from many walks of life.
So, what is it?
What is the attraction?
And what is in it for me?
History of CrossFit
CrossFit was developed by former gymnast Greg Glassman. The first CrossFit gym opened in 1995, but has grown exponentially in the past 5 years. Glassman developed his systems based on the most productive movements taught in gymnastics, sports conditioning, and weight lifting. By combining these movements in a class set format, each person in a Crossfit class can get a great workout without a lot of equipment, and in a short time frame. From wherever your fitness level, a Crossfit format class starts with where you are so that you can develop your fitness from your present level.
What is the Attraction?
CrossFit is accessible. The gyms are everywhere. CrossFit coaches pride themselves on keeping prices low, and instructions simple. CrossFits can open in homes and storage spaces, because they do not use a lot of equipment. They can schedule free workout times or class times.
Where should I go?
Make sure your CrossFit instructor is certified. CrossFit certifications are constantly offered all over the country. Anyone starting a CrossFit business should have taken the certification. Also, your CrossFit facility or instructor should have liability insurance, in the case that an accident happens. Check here for Official CrossFit Trainers in your area.
What is in it for me?
CrossFit gyms are communities. They take pride in working as a unit and in helping and coaching each other. CrossFit owners were customers themselves. They appreciate what it has done for their lives, and they want to pay it forward. The CrossFit philosophy is to help people, as much as possible, from wherever they are, to a new level of fitness. They develop strong relationships with their client base and take pride in helping develop communities surrounding fitness.
Karissa Herns, who has been involved in CrossFit for about a year, says, "The support you get from the people you're working out with is phenomenal. Since everyone is doing the same thing at their own level, everyone knows how hard it is. We all become coaches at some time or another because we're all there for each other to the end. I've done things I never dreamed I'd be able to do just because of a little 'come on, you can do it. Just a little more.' from someone who'd already finished the workout. That is what keeps me going back, even at 5:30am!"
In general, if you are ready and willing to press your fitness forward, and you are not afraid to try, then CrossFit may be a good answer for you. Visit CrossFit.com to learn more about these gyms and find one near you.