Yoga: Too Slow?
Author: Shannon Miller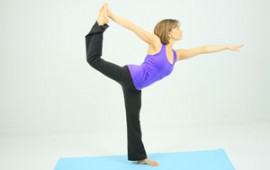 For a long time, I felt like yoga would be too slow for me.
If I wasn't sweating or out of breath I wasn't working hard enough.  I was wrong.  Yoga has given me longer lines, more flexibility, and a little sanity back into my life.  Research even endorses the notion that the long-term practicing of yoga can have rewarding effects. *

Consider a study that was conducted on yoga experts and yoga novices.  Two intriguing results were revealed from this study:
The novices' blood contained higher levels of a stress-related compound that apparently plays a role in conditions such as cardiovascular disease.
A protein which is known to indicate inflammation was found at higher levels in novices.  In reducing the possibility of inflammation, yoga poses as a safeguard against stressful burdens that can be placed on the body. *

As many benefits as we know exercise can bring, we still find it difficult to make time. Which is exactly why I have included yoga in my To-Go book series.  With Yoga To-Go, I want to give women a convenient, efficient, and effective workout.
In Yoga To-Go, you can find 50 of my favorite yoga poses.
You can keep up with your favorite poses while traveling, while at the gym, while the baby is napping, or even between loads of laundry.  Unlike other types of exercise, a good yoga workout is not defined by how out of breath you are at the end!
Breathe, hold, flow and enjoy!
* J.K. Kiecolt, Ph.D., L. Christian, Ph.D., H. Preston, B.A., C.R. Houts, M.S., W. B. Malarkey, M.D., C.F. Emery, Ph.D., R. Glaser, Ph.D., "Stress, Inflammation, and Yoga Practice," Psychosomatic Medicine Feb.  2010: 113-121.