SPROUTS: Growing Microgreens — Part 5
Author: admin

Become a kitchen gardener by growing microgreens in your home.
It's easy, nutritious and fun for the entire family.
Welcome to the world of growing your own microgreens. You can grow outdoors in warm seasons, or indoors all year long — even if you have limited space. It's literally countertop gardening. Microgreens are inexpensive, fun to grow, and cover a wide variety of exciting, nutrient-dense tastes. It also makes it easy to consume more living foods!
I learned about growing microgreens from my grandmother when I was a teenager, at the same time she taught me how to grow sprouts (see my previous Blogs all about sprouting). I always have microgreens growing in my kitchen because they are packed with big flavor and take only a few minutes spread out over a week or two to grow and harvest. You can grow your own little greens of arugula, basil, purple cabbage, sunflower seeds, chard, radishes, broccoli, cilantro, and more.
Get the children involved in the process, too. They love to participate in this growing process. You'll marvel at the small amount of space needed to grow microgreens—I use my porch, patio, deck, windowsill, kitchen counter and balcony—which allows them to be easily incorporated into daily meals. The greens' nutritional potency make them a must-eat in a healthy diet. Eaten alone as a salad or added to soups, entrees, sandwiches, burgers, or anything else imaginable, these tiny greens will enhance everyday food and life. I purchase all of my micro green supplies at GrowingMicrogreens.com. They have the best organic seeds, starter kits, and everything you need to embrace the wonderful world of microgreens in your lifestyle. On their website, you can view short instructional videos on how to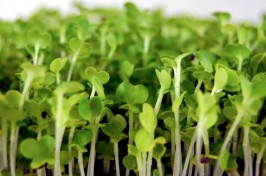 grow microgreens with or without soil.
Most of the microgreens I grow are without soil; they are hydroponically grown. A few of them, such as cilantro, beet, and sunflower seed greens, do better in soil. When you order the Microgreens Kit, you will have most of the material you'll need like growing trays without drain holes, growing pads, seeds, pH test strips, spray bottle and complete instructions. You will need to provide a few other materials like lemon juice to adjust the pH of your water, and scissors to harvest. Obviously, you'll also need clean water. Keep in mind that the trays may be re-used many times, and it is fine to section multiple crops per tray, as I often do.
Here are some of the ways you can use microgreens:
Garnishes — Microgreens make excellent garnishes for just about any dish. Look for the more colorful varieties like kohlrabi, red cabbage, red amaranth, beet, and red giant mustard to add a splash of color as garnish to soups, full size salads, sandwiches, hors d'oeuvres, and fruit plates.
Sandwiches — Use microgreens generously in place of lettuce on sandwiches. They are a fantastic addition to vegetarian/pita sandwiches, and can even be used on all kinds of burgers instead of lettuce.
Salads — Microgreens can be used to add color and garnish to full sized salads, but I recommend making straight microgreens salads. They make an excellent addition to tomato, cucumber, and avocado salads. My all-time favorite microgreen is sunflower and I love to use it as a base for any microgreen salad. There are an unlimited variety of combinations you can experiment with to mix and match colors and varieties. To make a pure microgreen salad, pile your microgreens high on the plate and garnish with wedges of tomato and avocado. I love microgreens straight without dressing, but try light dressings like lemon juice with seasonings, or balsamic vinegar and oil, if you like.
For over 30 years, I have been a culinary instructor. I teach individuals, families and small groups how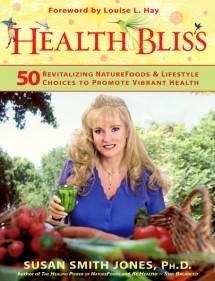 to make healthy, delicious meals. In some of these classes, I demonstrate how to grow sprouts and microgreens. These are the most popular classes. Everyone gets to see first-hand how easy it is to be a kitchen gardener. My neighbor, Betty, who's 90-years-young recently participated in one of my sprouting classes. She took to being a kitchen gardener like a butterfly to a buddleia (a plant highly attractive to butterflies). That was only three months ago and she's now providing fresh sprouts and greens to most of our neighborhood. In fact, her four great-grandchildren (ages 4 to 7) help her grow the sprouts. For loads of information on healthy foods to look and feel your best, please refer to my website SusanSmithJones.com and my book Health Bliss: 50 Revitalizing NatureFoods & Lifestyle Choices to Promote Vibrant Health. In the next Blog, I'll cover some of my best tips for growing fail-safe microgreens.