#GymnasticsHowTo: Cast To Handstand
Author: Shannon Miller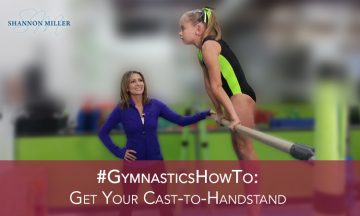 In this video, I wanted to show you the proper technique for this essential bars skill, the cast to handstand. I had a great time shooting this with Natalie and Trina, my helpers from the ever amazing TNT Gymnastics & Fitness!
This skill takes TIME to get, so don't give up! Try different variations, and focus on your form. Remember… practice and repetitions will add up at some point, and then you will move on from this skill with pure muscle memory! Just know, it doesn't happen overnight…
For upcoming and other gym videos, make sure you subscribe to my Youtube Channel! Let me know what other skills you want to see.