#GymnasticsHowTo: Do an Amazing Full Turn
Author: Shannon Miller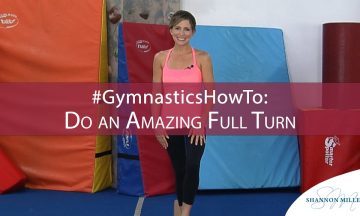 We're here with another #GymnasticsHowTo video! Are you working on your full turns in hopes to get your double and triple full turn one day?? Well, start with the full turn foundation. I've got three pointers for you in this video where I will walk you through how to do an amazing full turn on beam!
Stick with it, and keep practicing… all while keeping these pointers in mind!
Watch the video directly on YouTube or just click below:
Special thanks to TNT Gymnastics & Fitness for hosting us and letting us play in their gym!
For upcoming and other gym videos, go to www.ShannonMillerGymnastics.com! Do you have any requests for drills or skills? Be sure to connect with me on your favorite social media sites- Facebook (Shannon Miller Official), Twitter (@ShannonMiller96), Instagram (@ShannonMiller96), and Pinterest(@ShannonMiller96).