#GymnasticsHowTo: Front Layout Drills
Author: Shannon Miller Lifestyle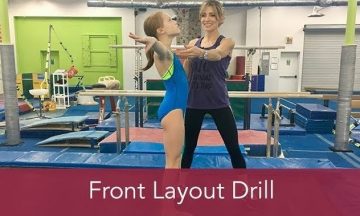 In this #GymnasticsHowTo video, we are going over Front Layouts and front layout drills! It's important to practice this move in the correct position so that you aren't picking up bad habits. I am going to show you three items to focus on in this video that will have the coaches and the judges applauding you, because they are winning techniques!
Let's do it!! Watch the video here on YouTube, or just click play on this video below.
Special thanks to TNT Gymnastics of Jacksonville for allowing us to play and film in their gym! 
Do you like Tess's leo? Check out my leo collection with Alpha Factor here! Like my outfit? Get it from my Salto™ fitness line here!
Is there a gymnastics skill or terminology you have questions about? Tag me on Instagram or Twitter (@ShannonMiller96) and use the hash tag #gymnasticshowto or comment below! I can't wait to hear from you.