#GymnasticsHowTo: Perfect Your Back Walkover
Author: Shannon Miller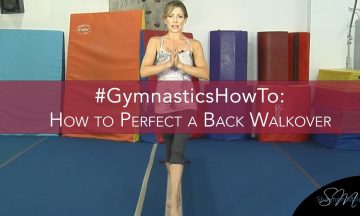 You learned the basics of the back bend, how to do a back walkover, and now we're going to learn how to make that back walker PERFECT!
After you've started nailing such a fun skill like the back walkover, I'm sure you now want to start trying to make it gorgeous yet solid not only on the floor, but on the beam! Here are my tips on how to really perfect your back walkover:
And if you feel like you still need to work on just getting your back walkover in general after watching the video above, make sure to re-watch this video here (or watch directly below) with my helper Chiara, and as usual, thank you to TNT Gymnastics & Fitness for hosting us!!
For more gym videos, make sure to subscribe to my YouTube channel to get the latest updates. Have other gymnastics skills you want to learn better? Tweet me @ShannonMiller96, Facebook me, or tag me on Instagram.