Beat the Heat!
Author: Shannon Miller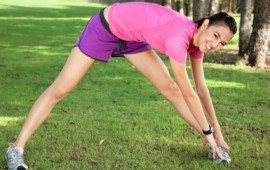 Temperatures are climbing higher and higher, and for those of you who are used to exercising outside, this may not sound incredibly appealing!  Have no fear, though.
If you are used to being active outside, SML has some tips for you to keep in mind so you can successfully ride the summer heat wave into fall!
Loosen up! Wear loose-fitting shirts, so air can easily pass through – creating a nice refreshing draft; a loose-fitting shirt will also allow you to move more easily.  Also, wear clothing that is made of material that absorbs sweat and removes it from your body.
Drink up! It's always important to stay hydrated, but it's doubly important when you are sweating profusely.  And remember, the best liquid to replace the water that your body loses is…water!
Don't forget about your skin! Wear a broad spectrum sun block to protect your skin from the sun.
Listen to your body when you're being active in the heat.  Stop your activity if you get dizzy or sick, get muscle cramps, or become extremely short of breath.
Take the talk test. You should be able to talk while you are engaging in physical activity – without gasping for air.  The heat might make this harder to do, so take it easy out there and don't push yourself too hard!
TIP:   Don't let the heat keep you from staying active this summer!  Beat the heat!