Drink Up This Summer!
Author: Shannon Miller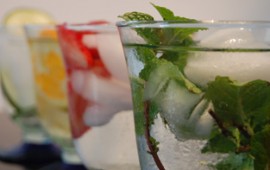 What's better on a hot summer day than a refreshing beverage?
Check out these ideas for beverages that will be sure to chill you out this summer!
Infused Water
By adding a few pieces of fruit, herbs, or even cucumber slices, you add a hint of flavor that can make plain old water far more inviting. For extra flavor, add the ingredients the night before so that they can steep overnight.
For convenience, you can even prepare your flavorings on the weekend.  Wash and cut a few of your favorite add-ins.  Put them in the freezer, and then grab a few on the go to add to your water bottles.
Try options like…
Cucumber slices
Lemon wedges
Lime wedges
Orange wedges
Fresh herb ice cubes (such as mint or lemon grass)
Fresh berries
Kiwi
When you're ready to drink, just add a few of the flavorings, a lot of ice, and cover with water.  Infused water is a great idea for a day at the beach or family day at the park!
Easy Breakfast Smoothies
Ingredients for 1 Serving:
1 cup of low fat plain Greek yogurt
1 cup of frozen berries (blueberries, blackberries, strawberries, raspberries, or combination)
1 fresh banana
Directions
Combine everything in the blender and pulse until consistently smooth.  Add a little water if necessary to blend.
Smoothies are a great and healthy way to start the day! So, drink up and cool down this summer!
Source: Shannon Miller Healthy & Balanced Pregnancy Cookbook – Recipes by Jessica Bright