10 Farmer's Market Fresh Finds and Benefits
Author: Shannon Miller Lifestyle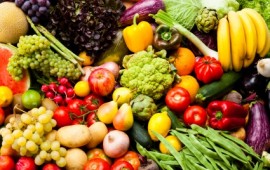 Find your next healthy meal at a local farmers' market or fresh food market.
What's the difference? One is taste, and you will know the difference. But, beyond taste, foods fresh from the farm have retained nutrients that are lost in transit to the store. The longer a food sits, the less nutritionally potent it is, especially if the temperature changed from location to location. It's a long journey for some of our fruits and vegetables aboard a truck. The carbon footprint alone is enough for the Earth-conscious to shudder!
Do you know if your "fresh" fruits and vegetables are non-GMO? GMO (Genetically Modified Organism) products are genetically engineered, not completely natural. GMO products have far less potent vitamins and minerals, and then they sit around for a while. You get the point; that wonderful fruit is not what you wanted it to be. Farmers' Markets are more likely to offer non-GMO and organic products, as well as produce that has been cared for. If your farmers' market or fresh food market is local, you are preserving those precious nutrients AND reducing your carbon footprint.
Take a look at the Top 10 items to get at the Farmer's Market in June and July…