Fiber CAN taste good!
Author: Shannon Miller Lifestyle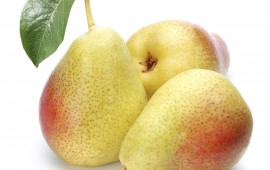 We know that a diet high in fiber is important to our health.
Having enough fiber in your diet can actually lower your risk for heart disease and overall really improve your health.
Often, we tend to think of a fiber-enriched diet as bland, loaded with dry and tasteless food or powdery drink mixes. "This is a common misconception," says registered dietitian Brie Turner-McGrievy, Ph.D., R.D., of the University of North Carolina at Chapel Hill.
Dr. Tirner-McGrievy also cites that "while supplements may occasionally be necessary, it's best to start your dietary change with an eating strategy that includes plenty of fiber rich foods."
The high fiber foods that you may already be familiar with are prunes, beans, legumes, bran, bulgur wheat, and those yummy fiber crackers! But the list doesn't have to end with those.  There are some really delicious and nutritious tasting foods available that are full of fiber.
Here is a list of the 10 best high fiber foods to add to your diet:
Pears-  Depending on the type of pear you can get  between 4.4 and 5.5 grams.
Berries- Blackberries and raspberries weigh in at 4 grams of fiber per serving.These are great by themselves or on top of cereal or yogurt.
Mixed Veggies- One-half cup of cooked vegetables delivers about 4 grams of fiber.
Cocoa powder- For you hot chocolate lovers, 2 tablespoons of unsweetened cocoa powder in a one-cup serving equals about 4 grams of fiber.
Sweet Potato- keep that skin on! A sweet potato serves up 3.8 grams of fiber.
Dried Figs- Figs are a sweet and tasty little treat give you about 3.7 grams of fiber per serving.
Pumpkin- In season right now and a half-cup of canned pumpkin has about 3.6 grams of fiber. Bake some up in a pie or some warm muffins.
Almonds-  Almonds provide a lot of healthy benefits, including a relatively high fiber content — 3.5 grams of fiber per serving.
Peas- Load up on the green peas served as a side dish or as an add in to stews and casseroles provides 2.5 to 3.5 grams of fiber per serving. Split peas, commonly used in pea soup, have as much as 8 grams per serving.
 Artichokes- These will provide you with about 7 grams of fiber and they are delicious.
TIP:  Eating fresh foods in their natural state, not processed, helps you to achieve the maximum amount of fiber in each serving.
And Remember – Every little bit of fiber you can add to your daily meals or snacks can make a difference.
Source:  "Surprising Places to Find Fiber", everydayhealth.com