Fireworks – Have Fun, Be Safe!
Author: Shannon Miller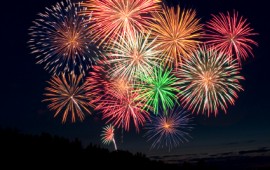 The Fourth of July is right around the corner and what is more popular on the 4th than hot dogs, hamburgers, and potato salad?
You guessed it – fireworks!  Fireworks are great fun, but it's important to be safe if you're going to use them at home.
The National Council on Fireworks Safety provides the following safety tips*:
Only use fireworks outside.
Obey local laws – if fireworks are illegal where you live, do not use them.
Don't attempt to alter or combine certain fireworks – use them as they come.
Avoid relighting dud fireworks.  Wait 20 minutes and then drop it in a bucket of water.
Make sure spectators are a safe distance from the shooter.
The person shooting the fireworks should wear safety glasses and should not be drinking alcohol.
Only individuals above the age of 12 should handle sparklers of any kind.
TIP:  Have fun celebrating the anniversary of America's independence – and be safe while doing it!

Video provided by The American Pyrotechnic Association and "The Firecracker Moms", who wish you a safe and happy 4th of July. For more information about fireworks safety and The American Pyrotechnic Association, please visit http://www.americanpyro.com.