Food Label Basics
Author: Shannon Miller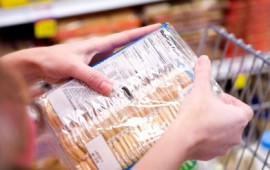 There is a lot of information on food labels – sometimes we're in too big of a rush to even care about this stuff when we're grocery shopping.
Make your next trip to the store different and challenge yourself to take an extra minute to look at the facts in the food labels.
Check out these food label basics to remind yourself of what's important.
Serving Size and Calories – Serving size is the BMOC (big man on campus)!  It is very important for the food label because all of the information you see on the label is based on the serving size.  Also, the number of serving sizes you eat affects the number of calories and nutrients you consume.
Percent DV (Daily Values) – This refers to how high or low a food is in a particular nutrient.  20 percent DV is considered high (reserve this for your healthy nutrients), whereas 5 percent DV is considered low (and this for your not so healthy nutrients, like the one discussed next!).
Saturated fat – Let's be honest, your heart is not a fan of saturated fat.  Read food labels and try to choose foods that have a 5-percent DV or less of saturated fat.  As far as fat goes, we want the polyunsaturated and monounsaturated fats – rather than saturated.  Total fat intake should be between 20 and 35 percent of calories.
Trans fat – Another nutrient that your heart is not too fond of is trans fat.  Here's a little trick for you: when grocery shopping and comparing food labels, add the number of grams of trans fat to the number of grams of saturated fats – choose foods with the lowest amount of combined fat.
Cholesterol…is also not heart healthy.  Keep your heart happy and your cholesterol low!
Sodium (salt): Interestingly, research has revealed that eating less than 2300 milligrams of sodium daily may reduce the risk of high blood pressure.
Fiber: Get your fair share of fiber in food products like fruits, vegetables, and whole grains.
Sugar:  We all love our occasional sweet treat, but on a regular basis – foods with little or no sugar are best.
Calcium:  Keep your bones happy and eat foods that are high in calcium (i.e. 20% DV).
Source: "Energize Yourself."  National Institute of Diabetes and Digestive and Kidney Diseases.