Fruits de Mer Salad
Author: Shannon Miller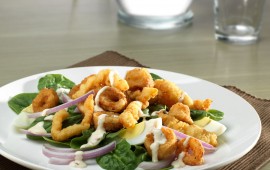 According to Sea Best Executive Vice President Mark Frisch, the easy-to-make and unique recipes shared on their website are one way to make sure health-conscious consumers keep their healthier eating habits well after the New Year.
"American consumers are familiar with the fact that seafood is a healthier alternative to other proteins," said Frisch. "However, most may not know a lot of seafood recipes, or they get burned out on the recipes they do know. We're giving people all over the country some easy, tasty seafood recipes, so they'll be more likely to eat healthier year-round."
Menu planning doesn't have to be complicated.
A salad of baby spinach, red onion, and hard-cooked eggs becomes a whole meal when topped with crispy calamari and clam strips.
Ingredients:
½ cup ranch salad dressing
1 tablespoon Sriracha or your favorite hot sauce
8 cups baby spinach
1 cup julienned red onion
4 hard-cooked eggs, peeled and quartered
1 package (10 ounces) Sea Best Breaded Calamari
1 package (10 ounces) Sea Best Breaded Clam Strips
Directions
1. In small bowl, combine the ranch dressing and Sriracha.
2. In large salad bowl, gently toss the spinach, red onion and eggs.
3. Cook the Sea Best Breaded Calamari and Clam Strips in heated oil according to package directions until crispy and golden brown.
4. Top individual salads with fried calamari and clam strips. Drizzle with spicy ranch dressing.
Servings: 4
Recipe courtesy Sea Best Seafood