Game Day!!
Author: Shannon Miller Lifestyle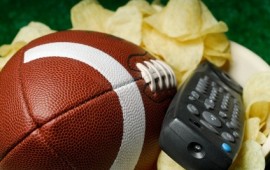 Super Bowl Sunday is right around the corner!
Who will you be rooting for?! And more importantly which commercials will be your favorites and…. what will you be eating while you are watching the game? 
After all, half the fun is the Super Bowl party…even if the game doesn't turn out the way you want it to.
So, when you and your family are preparing for Game Day, consider these ideas for some tasty (and fairly healthy) snacks to share with your guests!
Hummus.  Trade your ranch dressing for veggies with hummus.
Guacamole.  Make your own guacamole by purchasing some fresh avocados at the grocery store, peeling the skins off, and mashing in an appropriate sized bowl.  Add some lemon or lime juice, so the color of your dip doesn't turn from green to brown.  And if you're feeling creative, add chunks of tomato and diced onion.
Trade high calorie beverages for fruit-infused water. Freeze fruits like blueberries, strawberries and oranges in ice cubes.  The kids will love seeing their favorite fruits floating in the glass!
We've all heard that we should trade the chips for veggies. Veggies give you the same crunch and won't add to your waistline. Try veggie chips if you want that dry crunch!
Create your own healthier trail mix with unsalted nuts, raisins, pretzels, and even a few M&M's to satisfy your sweet tooth.
SML TIP:  Whoever you are cheering for and whatever tasty Super Bowl snacks you prepare, have a healthy, fun and safe Game Day with your family and friends!