5 Health Checks Every SML Lady Needs to Write
Author: Shannon Miller Lifestyle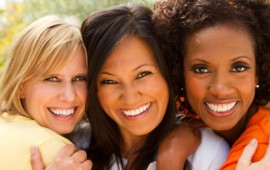 Happy Women's Health Week!
Have you checked in with your own health lately?
Women are the care givers in most families, and many times, they put themselves last. If you don't take care of yourself, women, your family will suffer. Make sure to put yourself at the top of the list, starting with getting your annual check-up.
Beyond your check-up, make sure you are doing all of the following:
1. Get Active. If you are not on an exercise plan, there is no better time than right now to start! Intimidated? SML is here to help!
2. Eat healthy. Today is the day to take control of the energy that goes in to your body. All calories are not created equally. Make your calorie intake optimal by increasing whole grains, legumes, nuts, fruits and vegetables, and lean proteins. Nix the extra sugars and refined products.
3. Check in with your mental health. Do you feel overwhelmed by your responsibilities at home and work? If you feel anxiety start to rise within you or you are noticing stress start to take you over, it may be time to schedule an appointment with a therapist or counselor. A professional can give you stress reducing techniques that can change how you function in your day. Cortisol, the stress hormone, causes inflammation in the body, which can lead to serious weight problems, and even heart disease. Instead of pushing yourself aside, tune in to your feelings and work on making your life less stressful. Stress is not just a feeling, but an actual hormonal problem that leads to disease. Don't ignore it.
4. Check in with your habits. Do you smoke? Drink in excess? Use or abuse a drug (legal OR illegal)? These are not just little things; they can cause disease or worse, death. Take an honest look at your habits and get help if you need it.
5. Check in with your safety. Most states require seat belts in every area of the car. Wear a helmet if you bike on the road. Be safe in parking lots and shopping centers. Know how to protect yourself. Check on the safety of your relationships with others, as well.
For more information on National Women's Health Week and to get help with health and safety, visit the Women's Health website.
SML TIP:  Also know that here at SML, we have your health and wellness in mind. Check in the Shannon Miller Lifestyle website for fitness, nutrition, wellness, health, and safety tips for you and your family.