Dental Fears? New Technology to Help!
Author: Shannon Miller Lifestyle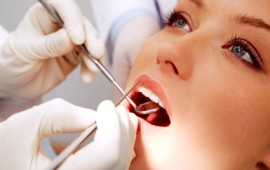 Do you suffer from odontophobia, the fear of the dentist?
Are you afraid of dental practices?
Do you find that you tense up at the sound of a dental drill?
Gladly, there are new dental practices to help ease your fears and your worried mind.
If you have had a crown in the last ten years, you probably do not remember it being a positive experience.
The last thing you have is time to sit in a dental chair.
To prepare your tooth for a crown, you were forced to sit in the chair for a couple of hours, then a gooey impression material was used to fabricate your crown, then you were given a temporary crown that fell off every time you ate something chewy.
You were then told to return in two weeks for the permanent crown to be seated. 
Now, Dental technology has advanced.  You don't have to go through this extended experience any longer. Not anymore.
With CADCAM technology, you can now walk out of the dentist's office with your new crown permanently bonded in your mouth, with no need for impressions, or temporary crowns, and it all can be done in one visit instead of two weeks.  No multiple visits.  The new revolutionary CEREC crowns can be fabricated in one visit and they are more durable, more beautiful and more life-like than the old crowns with metal in them.  Don't waste your time and money doing it the old way!  Look up dentists in your area that offer this service. One dentist around our office in Jacksonville, Florida is Dr. James McCall, and the whole SML Team just LOVES their staff! If you don't live in Jacksonville, find a CADCAM dentist near you at 1-800 Dentist.
Still reluctant because you fear the needle from anesthesia? Now, Vibraject, a new type of injection, uses a vibration system that eliminates the pain from the needle. Also, if you do need some drill work done, the newest drills are electric rather than air-driven. The electric drills don't have that horrible shill noise that sends shivers down your spine, and they cut a smoother and less painful line.
Need gum work? Now, hard tissue lasers can work on many gum surgeries. Lasers work without pain, stitches, swelling, or risk of infection!
The Smart Bur II is a new Smart Drill. It knows to remove only tooth decay, not healthy tooth structure. Now, tooth decay can be removed without damaging the nerve!
Be sure to ask your dentist about these new techniques, and call or visit 1-800 Dentist to find some dentists who offers some of these new procedures near you.