Having an Employer Help You Make Your Resolutions Stick
Author: Shannon Miller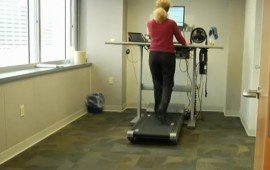 Yes, we're past the hype of making New Year's resolutions, but we're going to keep reminding you about them!
In fact, we will keep reminding you about them until it becomes a habit, which then becomes a lifestyle for you. We're willing to bet that some people have already abandoned theirs! (Not you, of course.)
If your New Year's Resolutions involved getting more fit, losing weight, eating better, etc…We have a better way to make sure yours sticks.
Have you thought about asking your employer to jump on board with your health and fitness plan?
Go talk to someone at the place where you spend half your time; get them on board with your health and wellness goals …

Ask your boss!
But first, arm yourself with some good points you can make if there is no health and wellness program in your office:
From small businesses to large corporations, companies want their employees to feel and look their best so their performance matches. A happy and healthy employee makes for a more pleasant work atmosphere AND it creates a sense of loyalty between the employer and the employee.
A growing body of research indicates that these programs can change employees' behavior, improve their biometric risk profile and work productivity, reduce use of and spending for health care services, and achieve a positive return on investment.
Even with research, the return on investment (ROI) is an important but limited measure of program success. Know this, but point out the positive things: worker productivity and ability to work, patient empowerment and ability to manage own care, behavior changes and clinical outcomes, employee satisfaction, recruitment/ retention, and corporate image. Corporate image is HUGE nowadays, and you want to be proud of the company you work for like the employees of CSX.
An Example of  a Company providing health and wellness for their employees, and Doing it Right!
CSX's Health and Wellness Program is all about Raising Awareness and Improving Lives (RAIL) for their employees. Talk about a mission statement! We are passionate about that, and we couldn't have been happier to dig a little deeper into why they provide this to their employees. Their answer? "It's the right thing to do."

Employee wellness programs strive to promote a healthy lifestyle for employees, maintain or improve health and well being, and prevent or delay the onset of disease. At their core, these programs assess participants' health risks and deliver tailored educational and lifestyle management interventions designed to lower risks and improve outcomes. By having your employer on board with your goals, you're much  more likely to succeed!
SML TIP:  If you need help trying to convince your boss about starting a health and fitness program at work, go directly to your HR department and see how they can help.  Good Luck!