Living with Diabetes: Decisions, Decisions, Decisions
Author: Shannon Miller Lifestyle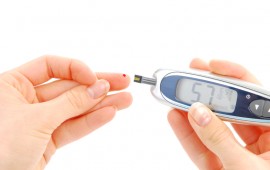 By Cecilia Hennig, RD,LDN,CDE
Diabetes is a complex and often challenging disease.
Learning to live with it can feel overwhelming, because it's with you 24/7. It's with you when you wake up, when you go to work, when you're out to dinner, on vacation, and when you get sick. You can't just take care of it "a little bit." Each situation requires decision-making and adjustments.
Many people don't realize how much work it is to live with this disease. It's a balancing act between blood glucose monitoring, food intake, physical activity, and medications.
A day with diabetes begins as soon as you wake up. That's when you first check your blood glucose levels to see how you're starting your day. If you're on medication, you have to be sure you're taking it at the correct time in relation to your meals. Eating a meal – any meal – is never simple. Diabetes means keeping carbohydrate (carbs) intake consistent. So it's not just a question of whether you feel like eggs or oatmeal in the morning. Based on your blood glucose reading, and your plan, it's about planning and consuming the correct number of carbs. People who live with diabetes are forever doing math and making necessary corrections to their plan.
Checking blood glucose at various times of the day is important.
Blood glucose should be checked 1.5-2 hours after a meal. If the numbers are too high — exceeding 180 mg/dL — something in your plan is not working. Perhaps you've consumed too many carbs, or didn't take enough medication to cover the rise that occurs after eating. To keep blood glucose and overall management under control, adjustments need to be made.
Exercise is another important aspect of managing your diabetes.
Exercise helps insulin work better by allowing the cells take in sugar better and by improving insulin sensitivity. It makes blood glucose levels easier to regulate. It is best to exercise one hour or so after a meal, when your chances of having hypoglycemia (low blood glucose –below 70 mg/dL) are lowest.
Another thing to think about when you have diabetes, if you are on oral medications that increase insulin production or if you are injecting insulin, is to have some fast-acting carbs with you at all times.  Examples of fast acting carbs include Lifesavers or glucose tablets, which are easy to carry in a pocket or purse and will get the job done if blood glucose levels should suddenly drop too low. At home or at work, half a cup of juice will do the trick.
Keeping a check on blood pressure and cholesterol levels through some home monitoring, regular medical checkups and blood work are also necessary to control the risk factors for heart disease. People with diabetes have a much higher risk for heart disease, stroke and kidney disease.
Finally, it is important it is to monitor what's happening with your feet.
People with diabetes sometimes lose feeling in the nerves of their feet, and don't notice when they step on something, or blisters or sores when they appear. Those can easily become infected and lead to amputations, a common complication of the disease. Daily foot care is a must, as are shoes and socks.
These are just a few of the things people with diabetes have to think about on an average day. But the good news is, if monitored and managed properly, good diabetes control can become a routine part of your life – not the end of it.  You control diabetes, vs. letting the condition control you!
About The Author
Cecilia Hennig is a certified diabetes educator, registered dietician and medical nutrition therapist.
Educating patients, families and caregivers about diabetes, pre-diabetes, metabolic syndrome and how to prevent obesity is a big part of her job at the Veterans Administration Hospital, where she helps people understand that what they eat and how much they exercise can have a big impact on their health.
Cecilia also loves to exercise – an avid cyclist, she co-chaired the Northeast Florida Inaugural Tour de Cure for the American Diabetes Association in 2010 and has been riding in it ever since. This year's Tour takes place Saturday, May 17th at RiverTown off the 210 along the St. John's River.
As part of her efforts to promote the Tour, Cecilia is available to provide cooking demonstrations and discuss the importance of diet and exercise in preventing and managing diabetes, a disease which affects nearly 26 million Americans, including 100,000 in the Jacksonville area.