Take it Easy on Yourself: Self-Improvement Tips
Author: Stephanie Haywood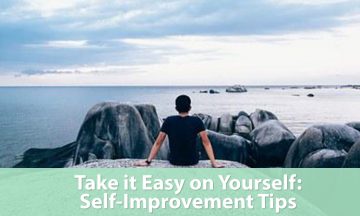 People who choose to be more attentive to their self-care needs often take a too-narrow view of what this process involves. Resolving to lose weight, eat better, and exercise fall within the broad idea of self-care, but there's so much more to it. It's also about finding things that give you joy and making time for them. Ultimately, your sense of well-being comes down to how you feel. If you've lost 12 pounds but still feel unfulfilled, you're not really getting the boost you need. Here's guest author Stephanie Haywood from Life Boost with some of her personal self improvement tips!
Let Go of Things You Can't Control
We all have little frustrations that pop up throughout the week, things that drive us crazy but over which we have absolutely no control. The tendency is to complain, curse, rage, and feel sorry for yourself (depending on how lousy a week you're having). This year, when you get stuck in traffic on the way home, realize that you'll get home, though it may take a little longer. Give up on your desire to have complete control — it will only cause your stress, anxiety, and frustration to mount, and your blood pressure along with it.
Don't Be So Hard on Yourself
Busy people with high-pressure jobs and lots of responsibility tend to be hard on themselves, expecting excellence at every turn. When excellence is not the result, anger and self-recrimination often follow. This year, try showing self-compassion by accepting that no matter how hard you try, you won't always win the account or be the brightest star in your department. Mistakes will happen and unexpected problems will crop up from time to time, so embrace the experience and try to learn from it when something doesn't go your way. Instead of calling yourself names, try congratulating others who succeed.
Career Care
Make 2019 the year when you take measurable strides toward improving your career. That may mean talking to your supervisor to identify areas for growth, or it might mean getting your resume in good shape so you can find the job of your dreams. A top-notch resume will catch the eye of a discriminating employer, so be diligent about selecting the format that's most effective for you. Make sure it's concise, informative, accurate, and well-written. Also, write each cover letter so it's specific to the job you seek, rather than firing off a generic letter that may generate little interest. Remember, you want to separate yourself from other applicants and look like a better candidate.
Make Time Just for You
If you love going for walks, playing with your dogs, or meditating, make time for it. If it helps you relax, it's worth doing. People find solace in all kinds of activities, and the only thing that matters is whether they work, so this year make a point of learning to say "no" to others when you've set aside time to engage in a relaxing, restorative practice, whatever it might be.You know better than anyone what's good for you and what you need to do to destress and feel better about yourself. Self-care is an essential part of your overall health and well-being, so make it a priority this year. Hopefully, your goal for 2020 will be to do exactly what you did in 2019.
______________________________________________________________________
ABOUT THE AUTHOR
Stephanie Haywood is happy to be living her best life. Personal development and self-care gave her a boost when she needed it most, and now she works to share the gift of self-knowledge, self-care, and self-actualization with everyone who visits MyLifeBoost.com.